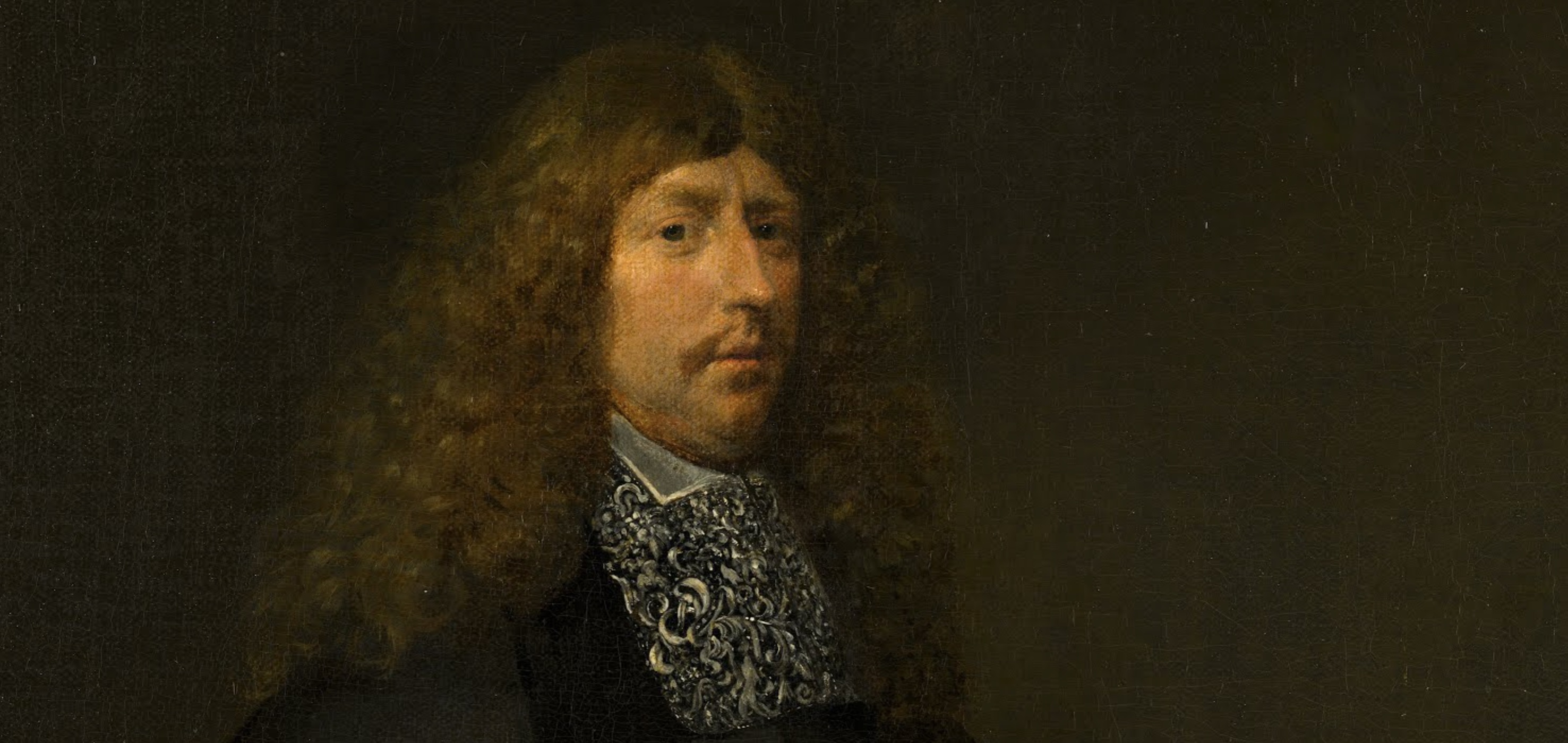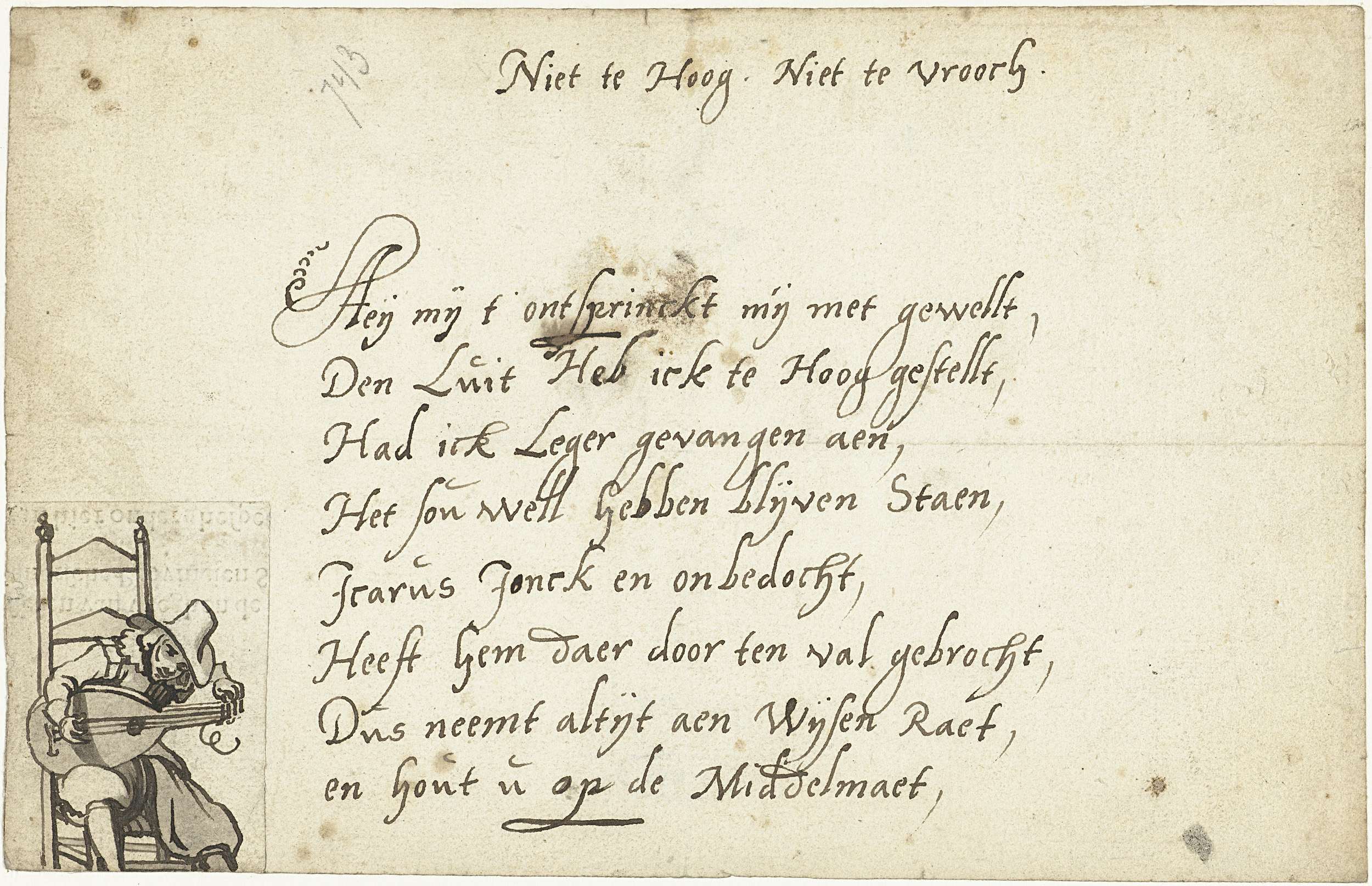 Niet te Hoog. Niet te Vrooch.

Aeij mij tontsprinckt mij met gewellt,
Den Luit Heb ick te Hoog gestellt,
Had ick Leger gevangen aen,
Het sou well hebben blijven Staen,
Icarus Jonck en onbedocht,
Heeft hem daer door ten val gebrocht,
Dus neemt altijt aen Wijsen Raet,
en hout u op de Middelmaet,


Niet te hoog, niet te vrooch [vroeg].

Aeij mij! t Ontsprinckt mij met gewellt.
Den luit heb ick te hoog gestellt.
Had ick leger [lager] gevangen aen,
Het sou well hebben blijven staen.
Icarus, jonck en onbedocht,
Heeft hem daer door ten val gebrocht.
Dus neemt altijt aen wijsen raet,
en hout u op de middelmaet!

Gerard ter Borch (I)

dr. Willem Kuiper Leerstoelgroep Historische Nederlandse Letterkunde Universiteit van Amsterdam



"Not too high, not too soon"


"Oh dear, with such force it escapes [the string leaps out of my hands],
I have tuned the lute too high,
Had I begun [tuned] it lower,
It should certainly have remained,
Icarus, young and reckless,
It [going too far] caused him to fall,
thus always heed wise advice,
and keep to the middle way"





Gesina ter Borch was born on 15 November 1631 in Deventer in the Dutch Republic. She was the first child of the third marriage of Gerard ter Borch the Elder, who taught her to draw and paint. Her half-brother Gerard ter Borch II enjoyed artistic success and corresponded with Gesina frequently. After the loss of her younger brother, Moses, to the Second English War, Gesina's work conveyed her deep sadness. She lived her whole life on the Sassenstraat in Zwolle, where she died on 16 April 1690. Gesina never married during her lifetime. In 1660, she became friends with Henrik Jordis, who was a merchant from Amsterdam and an amateur poet. This resulted in courtship

Gesina ter Borch was very successful during her artistic career. She also aided her older half-brother Gerard in a few of his pieces. Gesina was a model for many of the ladies that are depicted in Gerard's works Ladies in Satin. Gerard considered Gesina his favorite model for these works. She also furthered her art career on the side, while modeling for her brother. Gesina became a successful watercolorist. During her lifetime, she collected love poetry, and she made illustrations to coincide with it as well. Some albums of her work even included pieces dedicated to songs about love.

Gesina's older brother Gerard ter Borch was the most commercially successful artist in the family, and the only one of the siblings to pursue painting as a professional career. Gerard and Gesina shared a close bond, despite their sixteen-year age difference (he was born in 1617 during their father's first marriage). His oil paintings and her watercolors convey interrelated themes of courtship, romance, and domestic imagery, with a distinct focus on the inner emotional lives of everyday people. Gesina posed for her brother regularly, and the two must have discussed their work with each other. Their artistic exchange is most clearly and poignantly preserved in a jointly conceived and painted commemorative portrait of their younger brother Moses.

VIDEO: Lieffd' int secreet

Engelsche fortuin / Lieffd' int secreet (Love in secret)
During the Golden Age of the Netherlands, all sorts of song texts were sung to the mournful English ballad tune "Fortune my foe." One example is "Love in secret", about the hidden love of a young man who has gone pale as a sheet with infatuation. Now and then his beloved makes eyes at him, but for one reason or another he dares not declare himself to her. So he asks Venus's doves to carry this song to his girl.



Lieffd' int secreet
stemme: denghelsche fortuijn

Lieffd' int secreet
Myn jonck hert krencken doet
Sonder s'lieffs weet
Ick veel oock dencken moet.
Hoe ick my schick,
My compt te vooren staech
Lieffde die ick
Tot d'uytvercooren draech.

Haer oochskens claer
My somptyts schencken goet
Een seer eerbaer
Loncxken en wencxken zoet,
Dewelck myn hert
Int alderdiepste prickt
Ende met smert
Ontroert ende verschrickt.

Compt duyffkens hier,
Die Venus coetse treckt,
Neempt dit pampier
En brenght het wel perfeckt
De jonckvrouw aen,
Die zoo veel deuchden heeft
Als een persoon,
Die op der eerden leeft.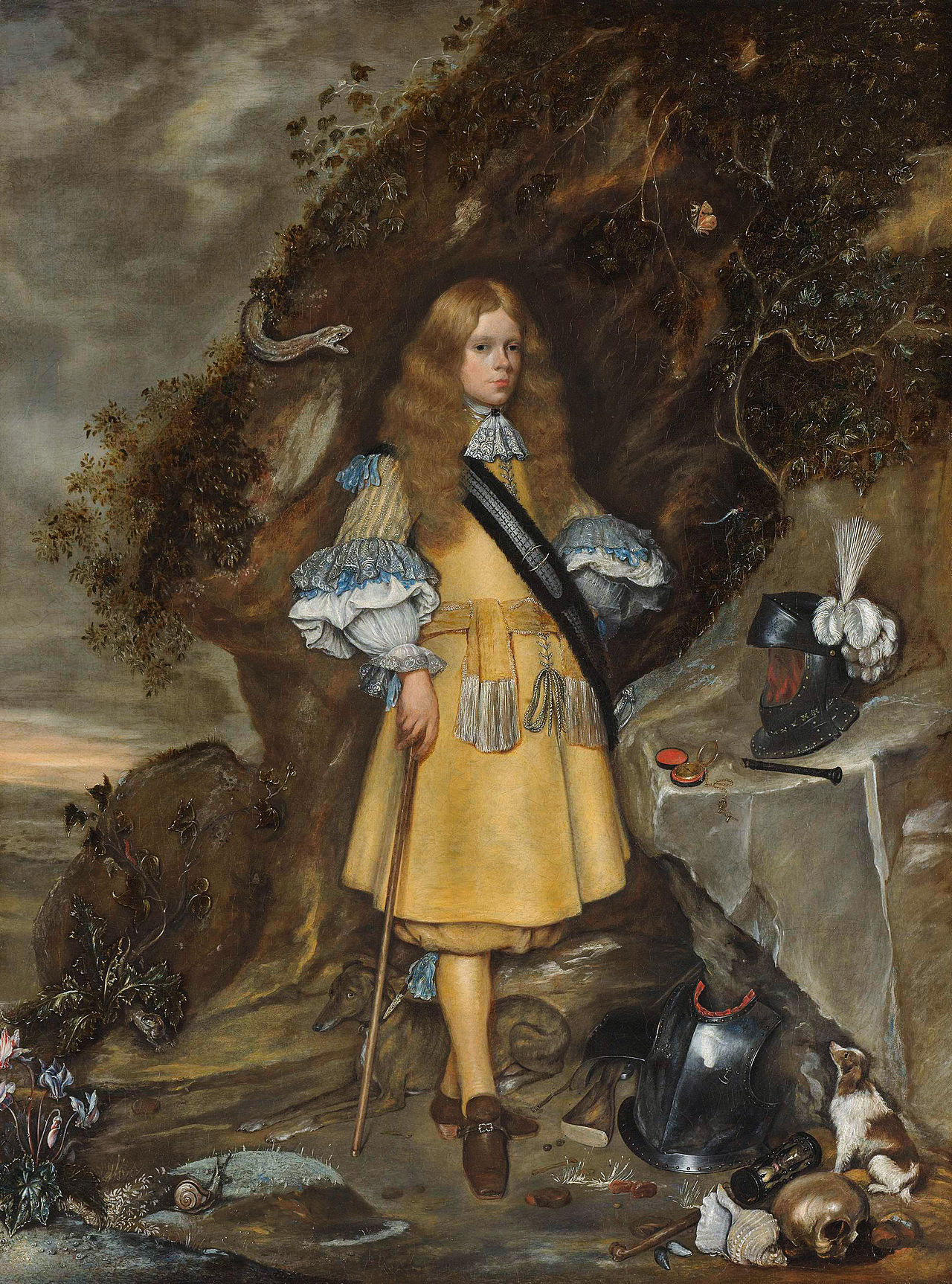 Posthumous portrait of her younger brother Moses, painted by Gesina with help from her half-brother, Gerard, ca. 1667-1669.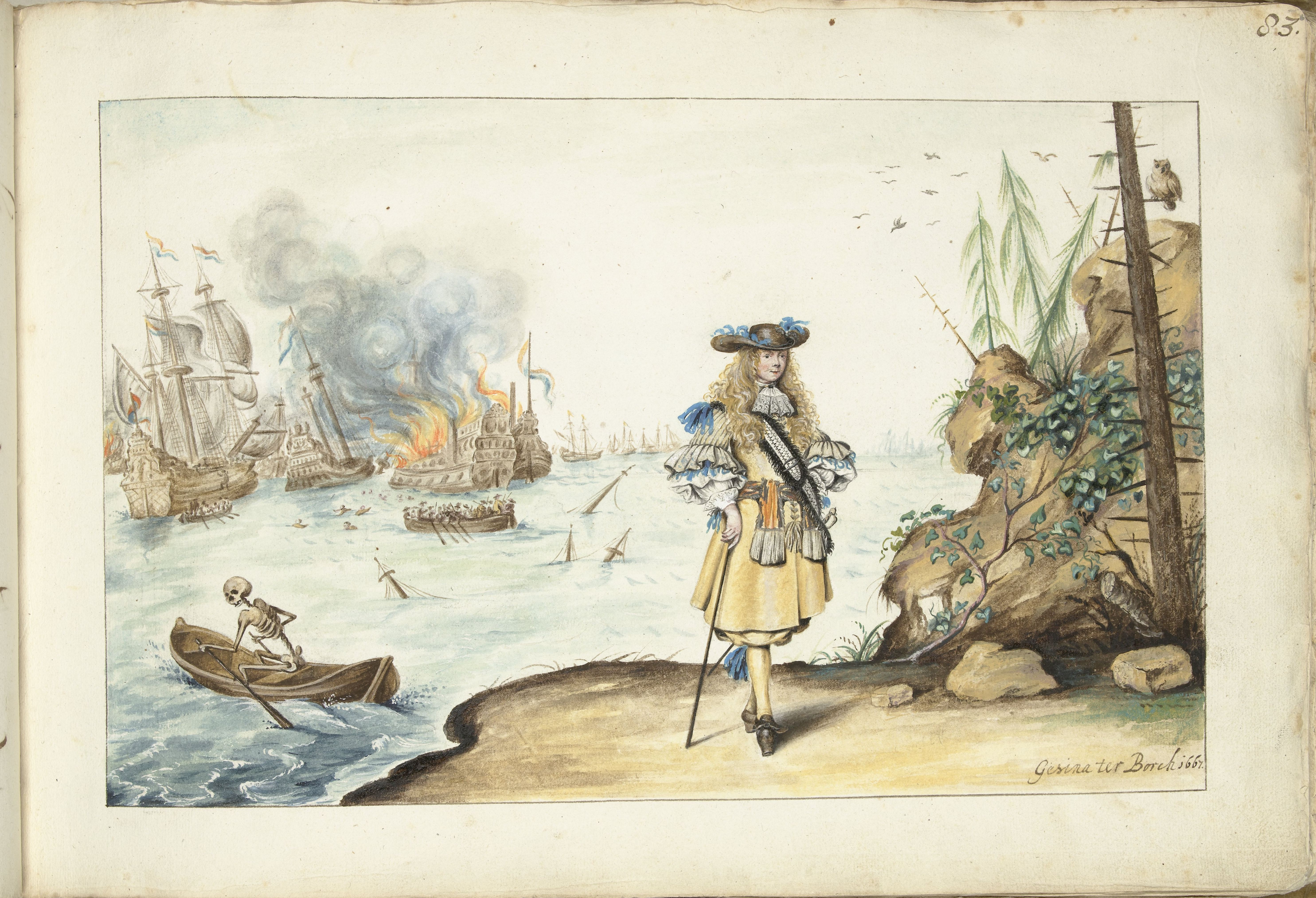 Gesina's brother Mozes, also a painter, joined the Dutch navy during the Second English war.
He participated in the daring and devastating "Raid on the Medway", bringing destruction for the English fleet and main naval facilities round Chatham, not far from London. An episode considered by a British admiral "the worst disaster in Navy history".
Shortly afterwards during the same campaign, Mozes fell in an attack on Fort Landguard. He was buried in Harwich.
On this aquarelle by Gesina, death is rowing, coming to get Mozes ter Borch. In several other drawings and writings, she expressed deep grief over the loss of her brother.
We know from various sources that Gesina did take painting seriously. But being a decent member of a wealthy family, she never aspired to a painting career.
Her work remained largely within what was socially acceptable, mainly for family and friends. Although her talent was recognised and valued in a wider circle.
One can only wonder what she might have achieved in other circumstances.

Gesina sure was an excellent observer, with a broad range of interests. Also, being a woman, her focus was different in certain respects.
That she didn't need to work for the market gave her more freedom in the choice of subjects. Not always sweet nor obedient.