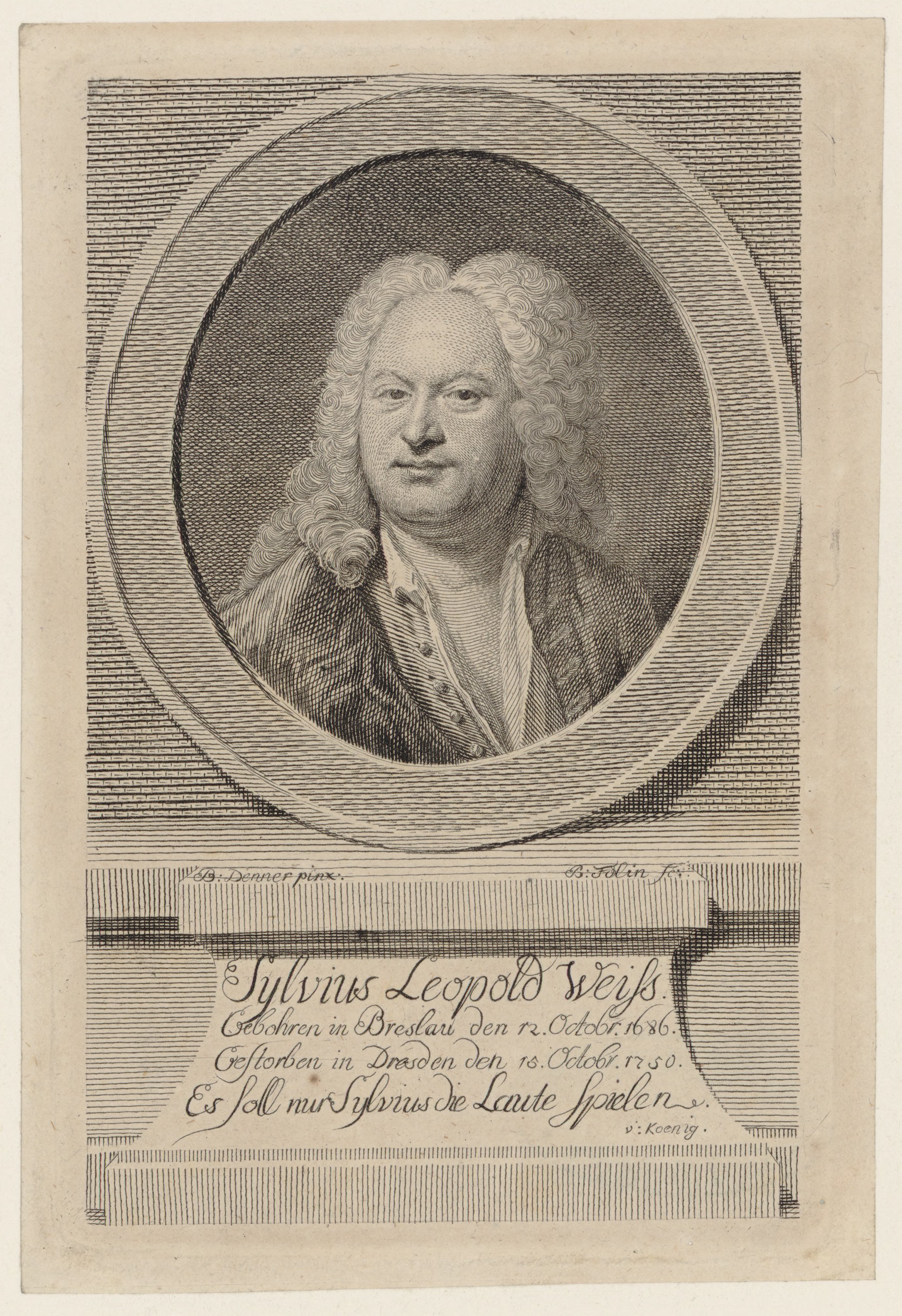 Born: October 12, 1687 - Grottkau, near Breslau, Silesia, Germany (now Wroclaw, Poland)
Died: October 16, 1750 - Dresden, Germany


Silvius [Sylvius] Leopold Weiss [Weiß] was a German composer and lutenist, the master lutenist of the 18th century and one of the greatest players of all time. He was born into a lute-playing family: his father Johann Jakob (1662-1754) and brother Johann Sigismund (c1690-1737) were also lutenists of distinction. His father, Johann Jacob, was said by Baron to be a "profound musician, lute and theorbo-player", taught Silvius Leopold, his younger brother Johann Sigismund and their young sister Juliana Margaretha the lute.


In 1706, Silvius Leopold Weiss made his professional debut in the Breslau court, in which his family served. Weiss' extraordinary talent gained the attention of Elector Johann Wilhelm, dedicatee of Arcangelo Corelli's Op. 6 and an intelligent patron of music. Weiss served in Wilhelm's court in Düsseldorf for the next two years, and his earliest known compositions date from this time.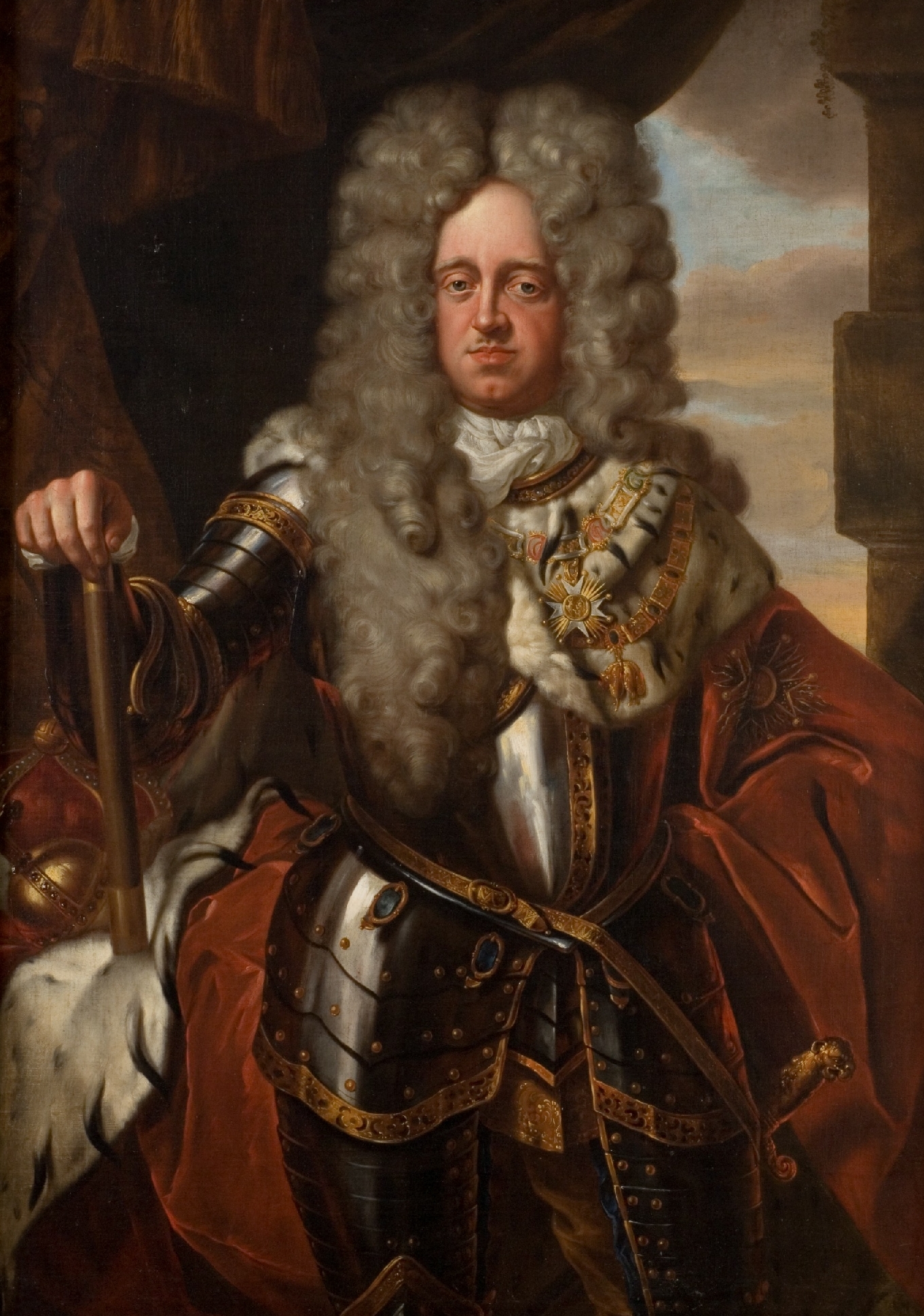 Elector Johann Wilhelm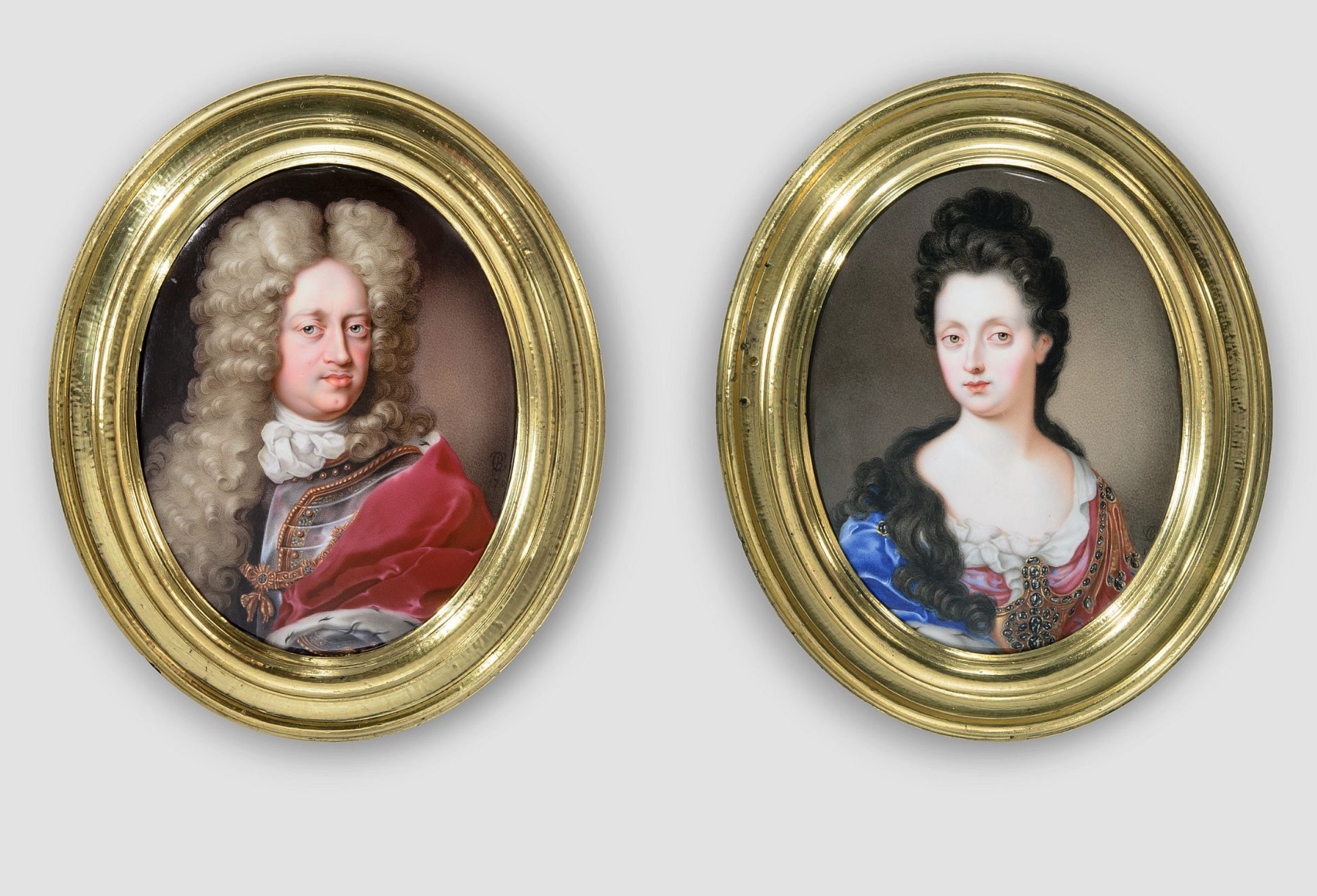 THE ELECTOR PALATINE JOHANN WILHELM AND HIS CONSORT ANNA MARIA DE' MEDICI
Elector Johann Wilhelm's Düsseldorf collection.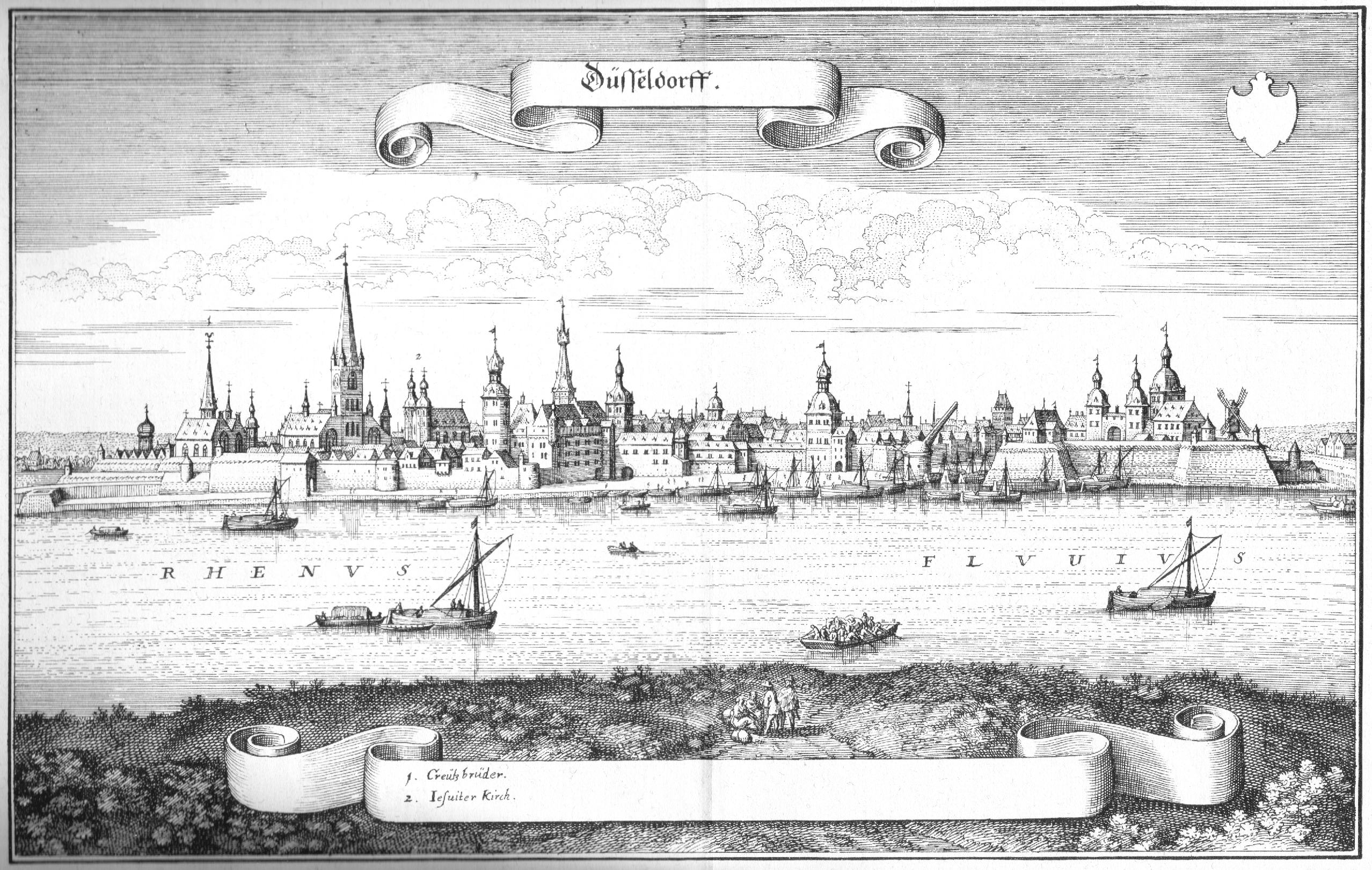 Johann Wilhelm's Düsseldorf Castle to the left of center


Johann Wilhelm, Elector Palatine erected impressive buildings such as the Schloss Bensberg and led a lavish court which gave work to many artists and artisans, including the court painters Johannes Spilberg, his daughter Adriana, her later husband Eglon van der Neer, Adriaen van der Werff (21 January 1659 – 12 November 1722),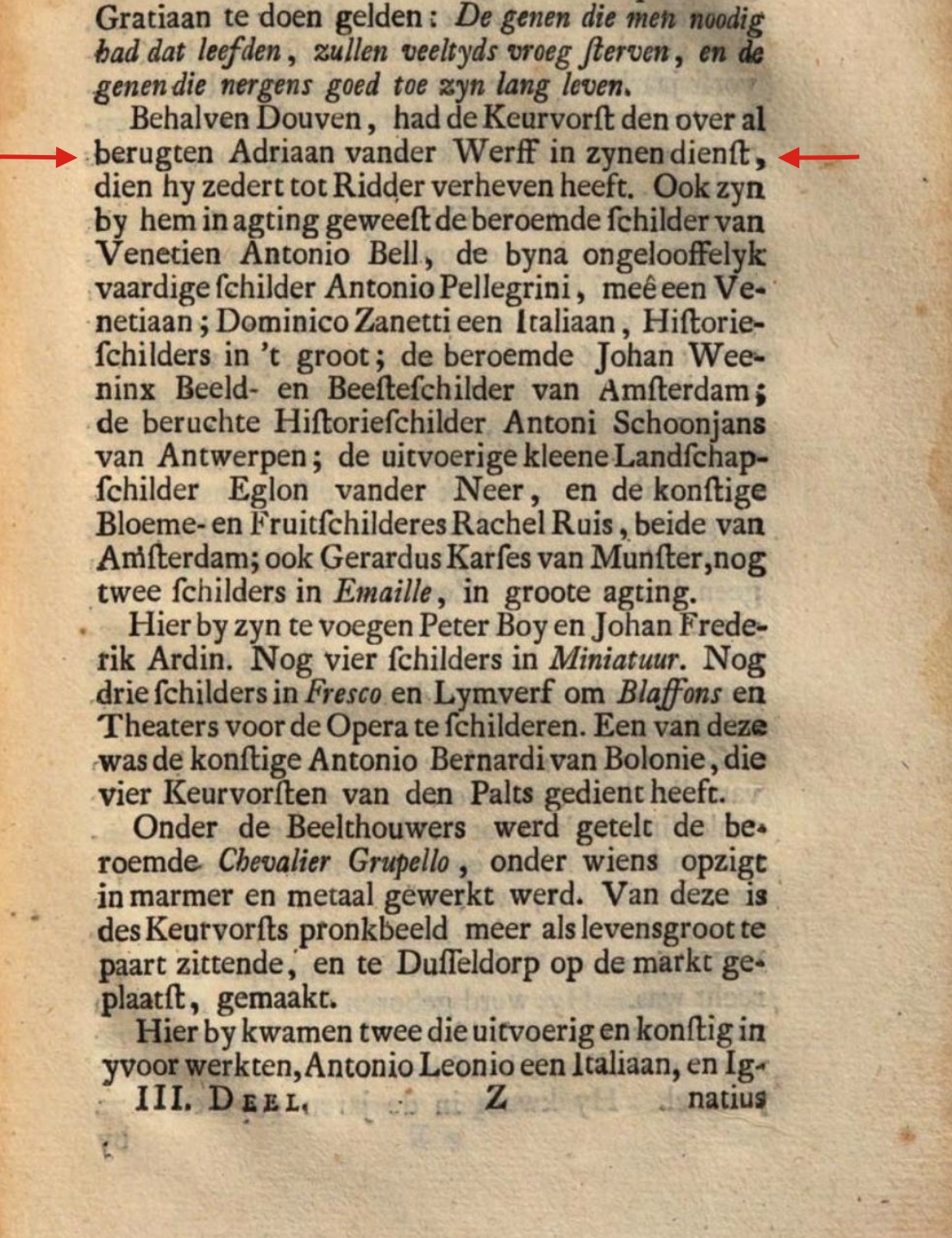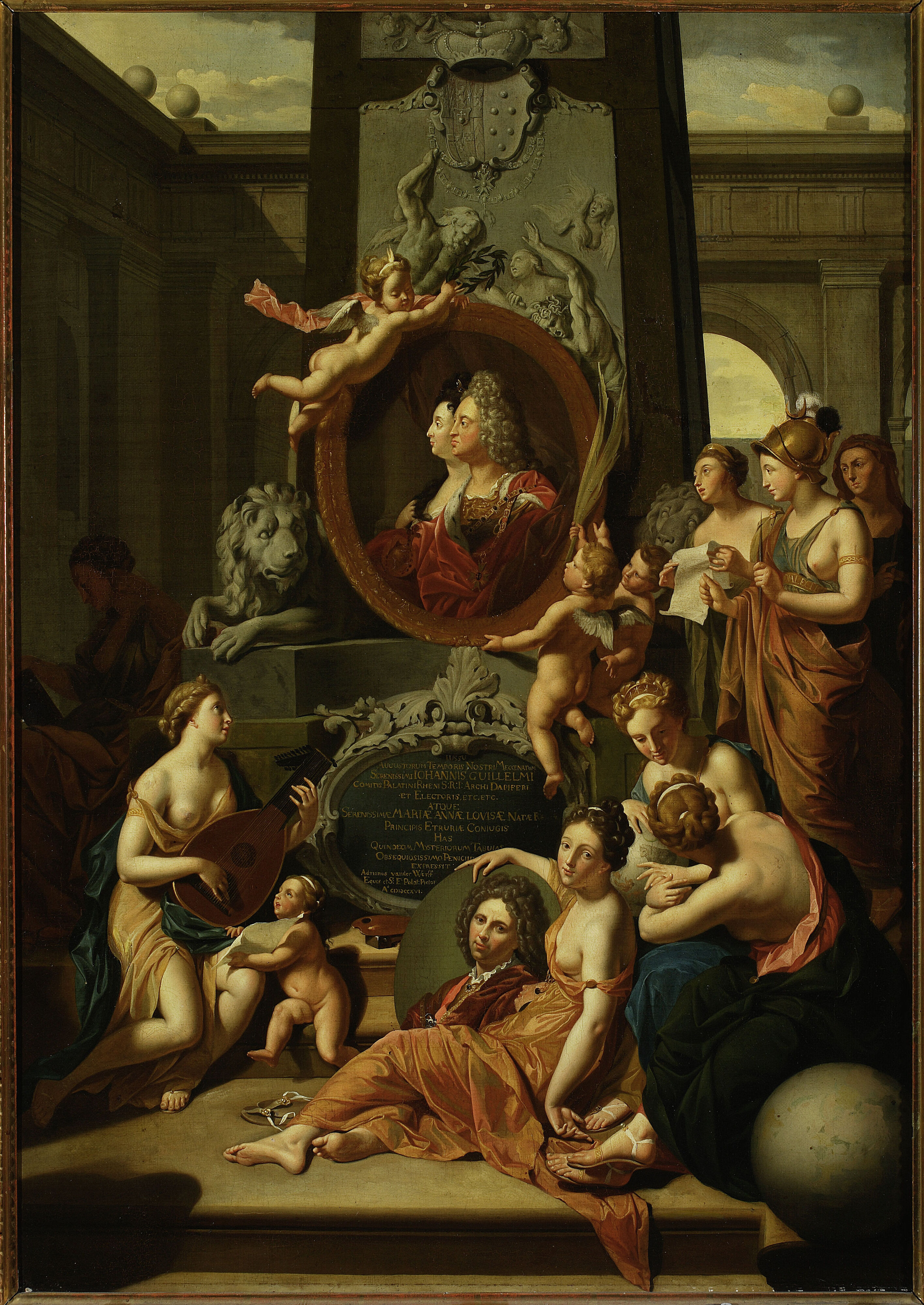 Adriaen van der Werff (21 January 1659 – 12 November 1722)
Liberal arts pay homage to Johann Wilhelm, Palatine of the Rhine, and his wife Maria Anna Louisa de' Medici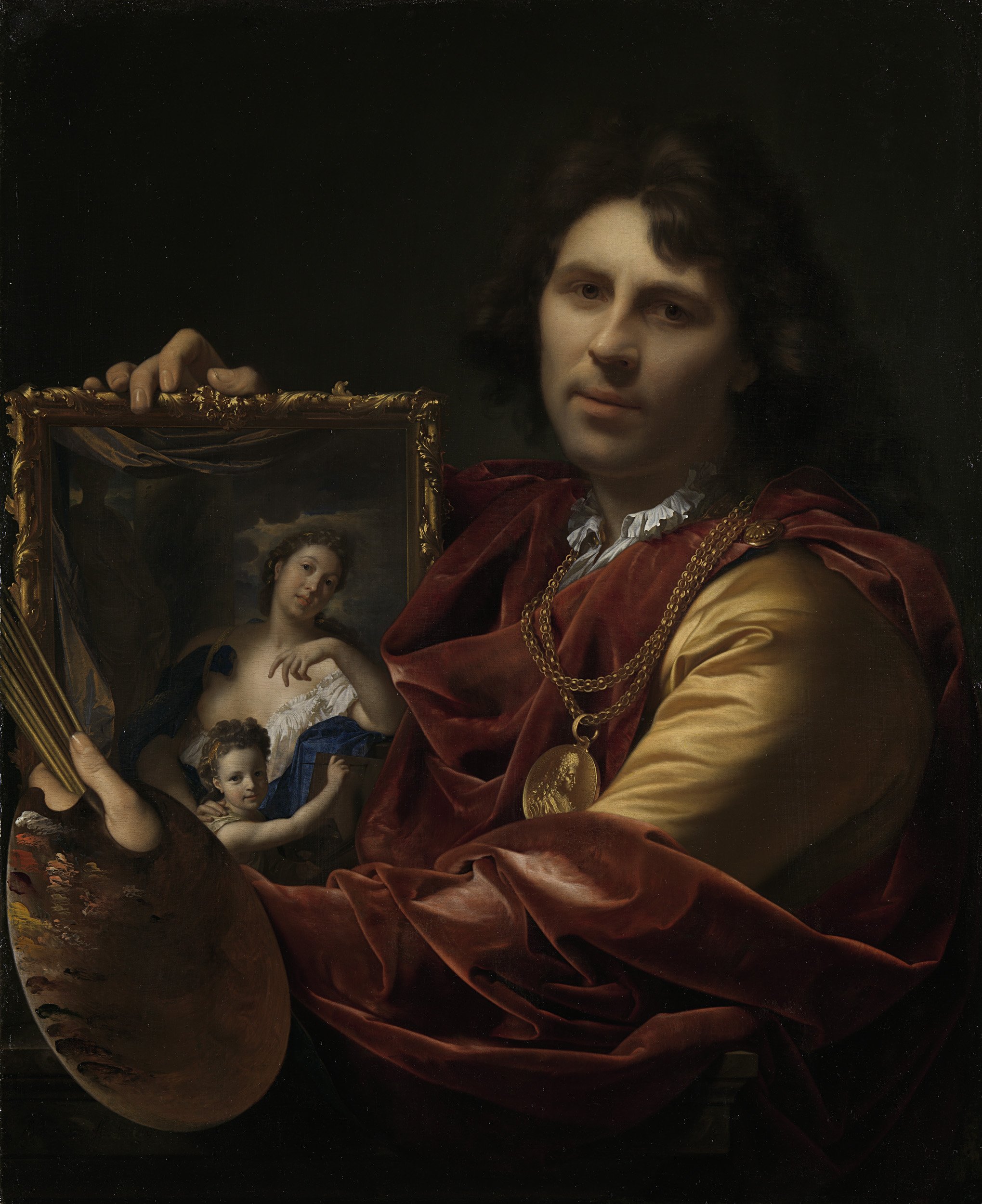 Zelfportret Adriaen van der Werff met het portret van zijn vrouw Margaretha van Rees en hun dochtertje Maria - Rijksmuseum


Jan Frans van Douven, Herman van der Mijn, Jan van Nickelen, his daughter Jacoba Maria van Nickelen, her husband Willem Troost, Anthoni Schoonjans, Rachel Ruysch, Godfried Schalcken, and Jan Weenix with his daughter Maria Weenix. His enormous collection of paintings by Rubens can still be seen in the Alte Pinakothek in Munich.
His widow Anna Maria Luisa was the last scion of the House of Medici. A patron of the arts, she bequeathed the Medicis' large art collection, including the contents of the Uffizi, Palazzo Pitti, and the Medicean villas, which she inherited upon the death of her brother Gian Gastone in 1737, and her Palatine treasures to the Tuscan state, on the condition that no part of it could be removed from the capital Florence. Therefore, these treasures are still to be visited in Florence today.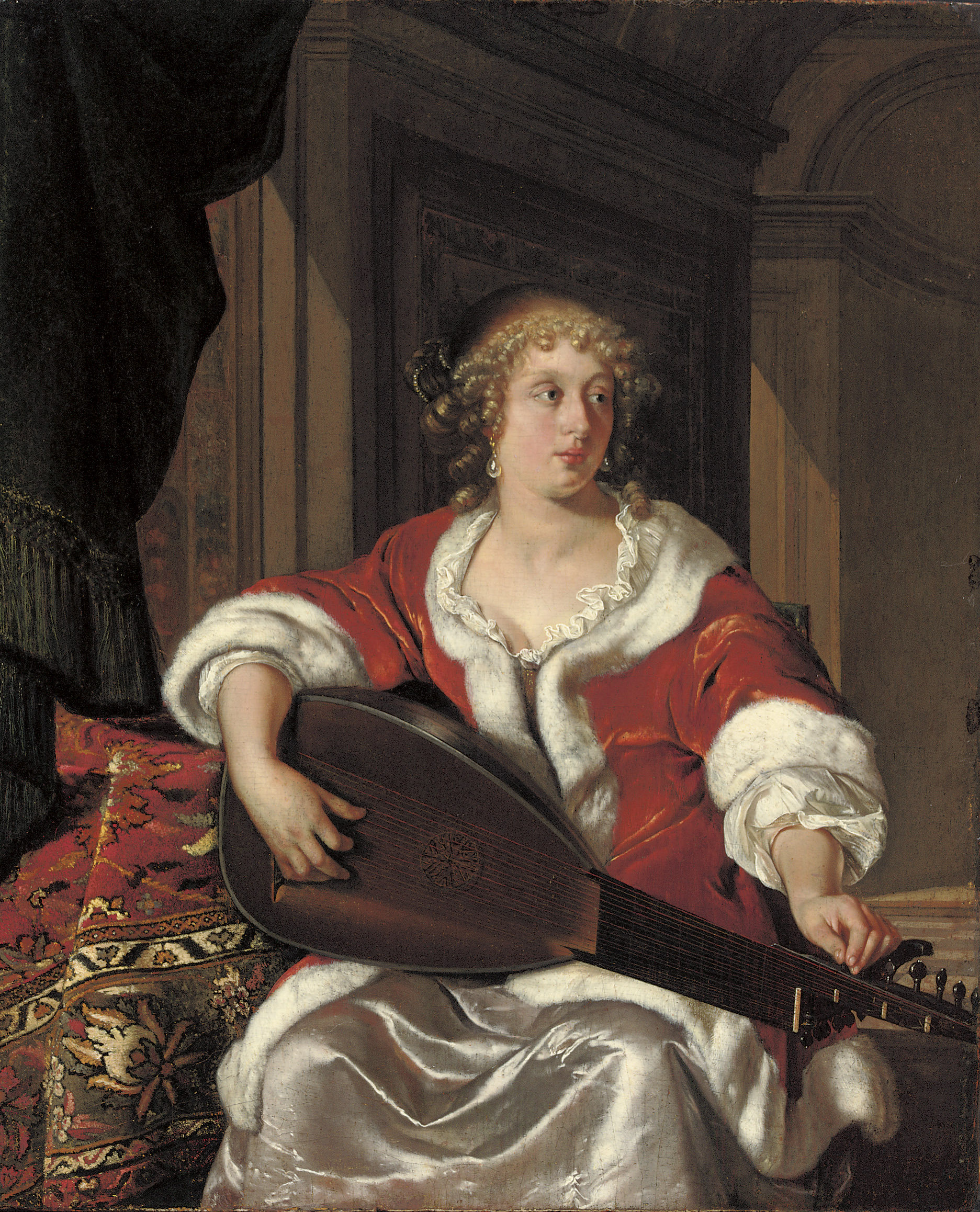 Johann Wilhelm, Elector Palatine - court painter Eglon van der Neer
A lady tuning a Lute Theorbe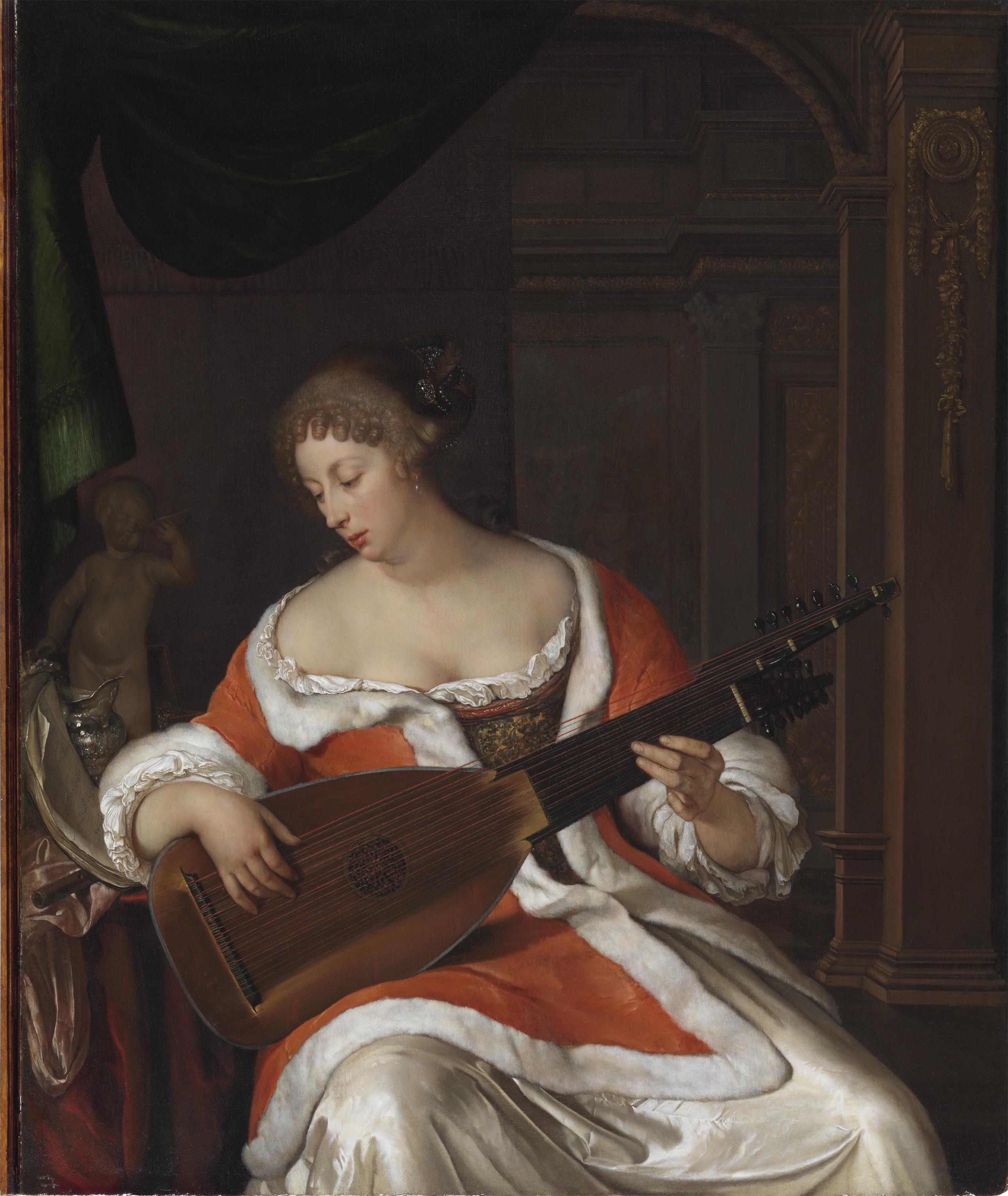 Johann Wilhelm, Elector Palatine - court painter Eglon van der Neer
A lady playing a Lute Theorbe


In 1708 he was engaged by the former Polish queen, Maria Casimira, as a musician in the service of her son Prince Alexander Sobieski, who travelled to Rome to join her there in that year.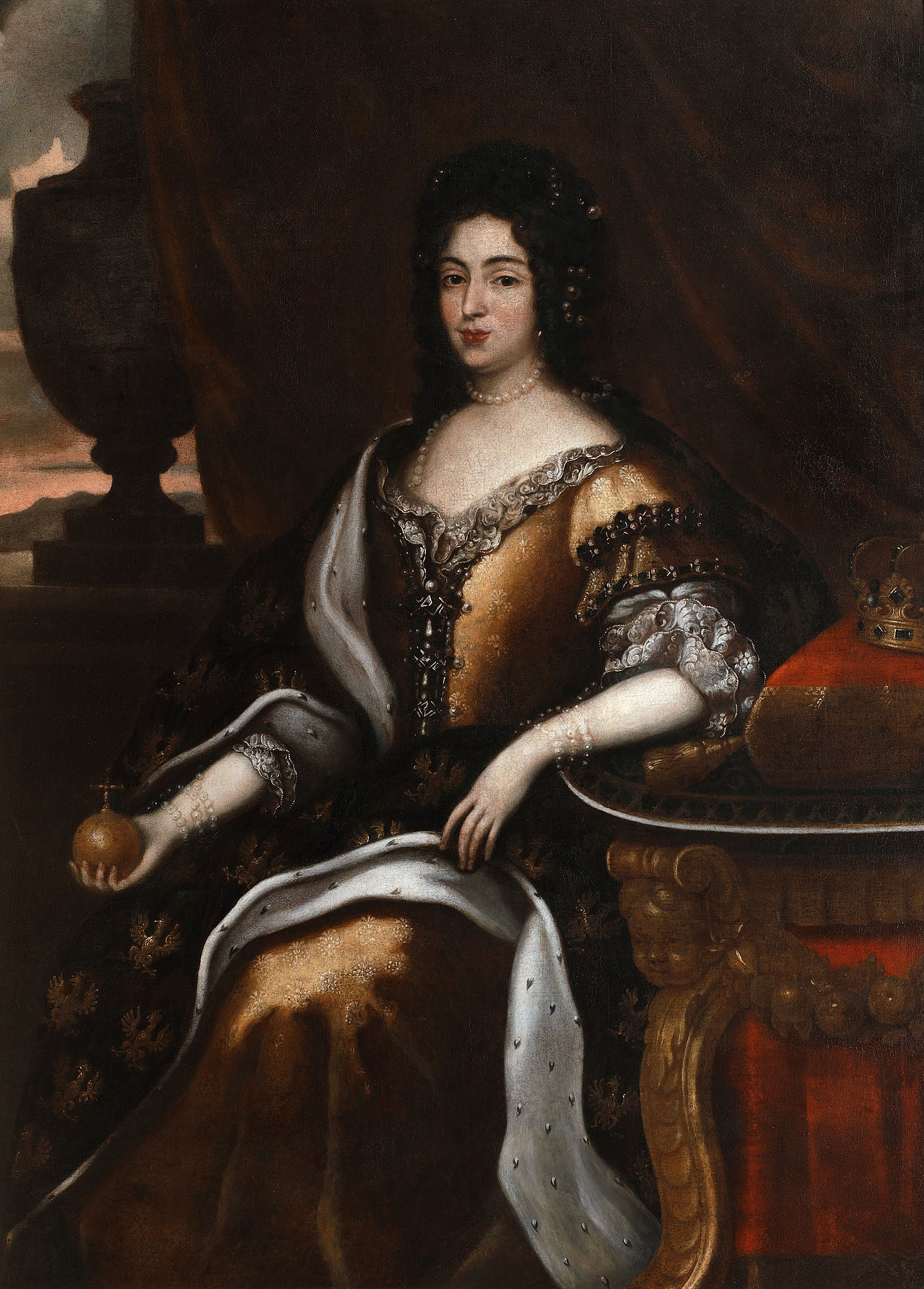 Portrait of Maria Casimire (1641-1716)
Jan Tricius (ca.1676)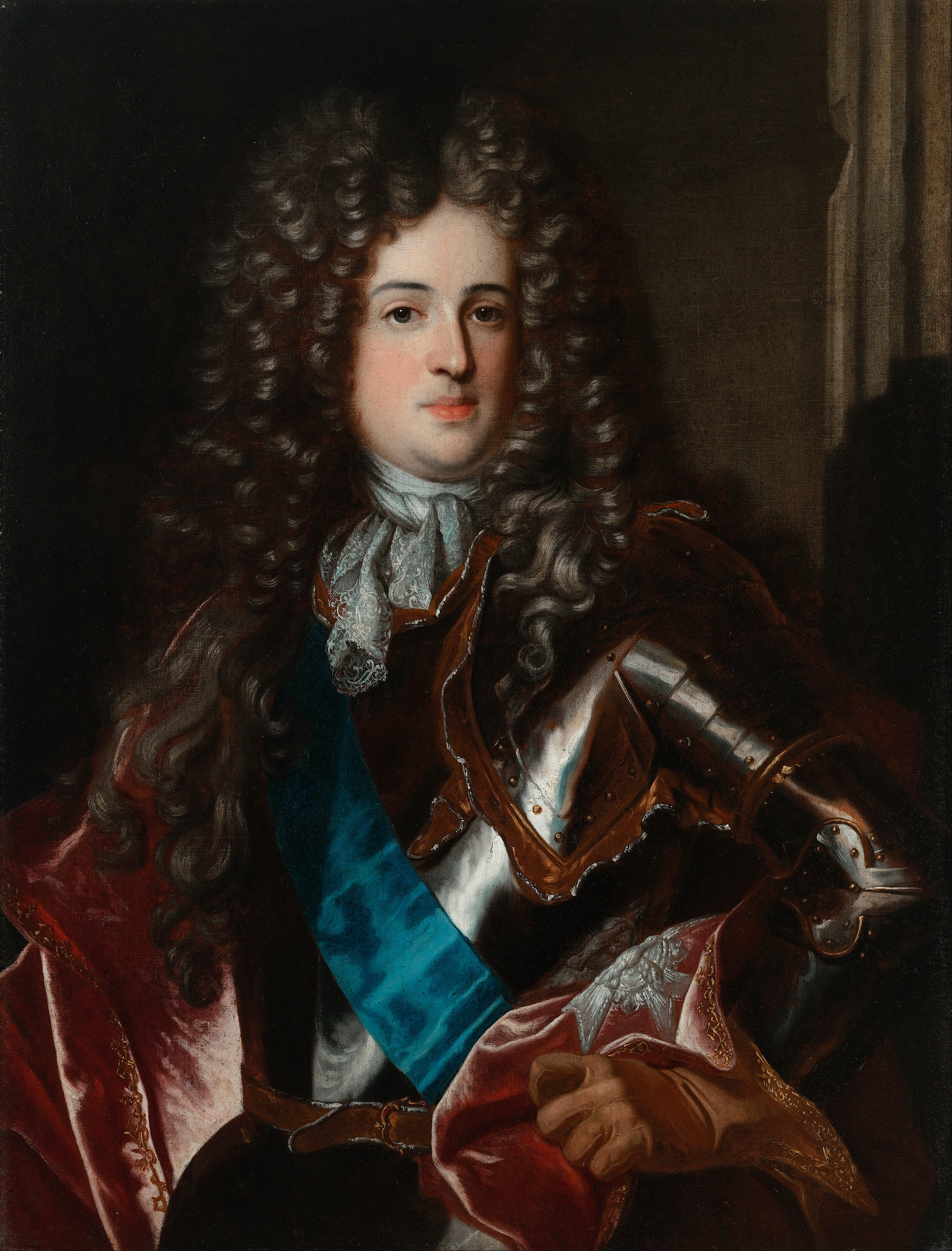 Prince Alexander Sobieski
Hyacinthe Rigaud (circle of) (1659 - 1743) – Painter (French)


Weiss left Düsseldorf for Rome and resided in the Zuccari palazzo until 1714, absorbing new Italian styles firsthand and touring with the Prince to various courts. By the time of the Prince's death, Weiss' reputation was already well established, and he spent the next several years touring the continent and taking fixed employment only briefly. In Prague he met the prominent Bohemian lutenist Count Johann Anton Losy, whose work had a considerable impact. After Losy's death, Weiss would write a memorial Tombeau that remains one of most eloquent works.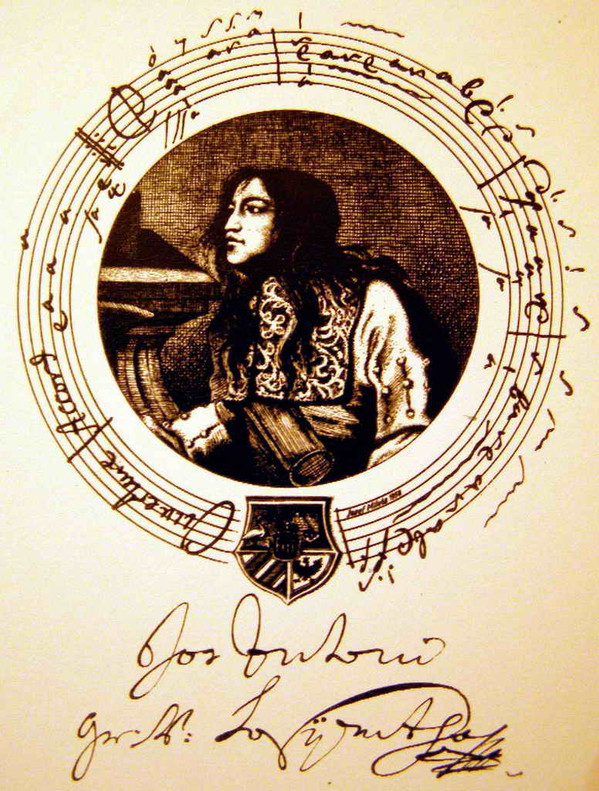 Count Johann Anton Losy


In 1714 Silvius Leopold Weiss returned from Prague to Germany and briefly served at the Hesse court at Kassel. In 1717 he first played at Dresden, and in 1718, weary of wandering, he decided to settle into a lucrative post offered him at the court of Dresden in the famous orchestra of the Saxon elector and King of Poland, August the Strong.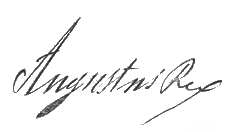 August II (1670-1733), King of Poland and Grand Duke of Lithuania (1697-1704; 1709-1733), Elector of Saxony (as Frederick August I) from 1694 to 1733


Though this did not prevent him from travelling on occasion, Dresden would serve him as home base for the rest of his life. Attempts to dislodge Weiss from Dresden made by representatives of the Vienna Court, including princely sums of money offered, went ignored.

After leaving the court of Sachsen he fell victim, in 1722, to an ugly incident which could have had disastrous consequences, a violist nearly severed the thumb of his right hand with a bite. In the autumn of the same year he was invited to the court at Munich in occasion of the wedding of the prince of Bavaria.
Returned to Dresden, Weiss together with Joachim Quantz and Karl Heinrich Graun left for Prague to be present at the coronation of Charles VI in 1723. His success at court was great and he joined the orchestra of Johan Joseph Fux's permanent opera company as their Theorbo player.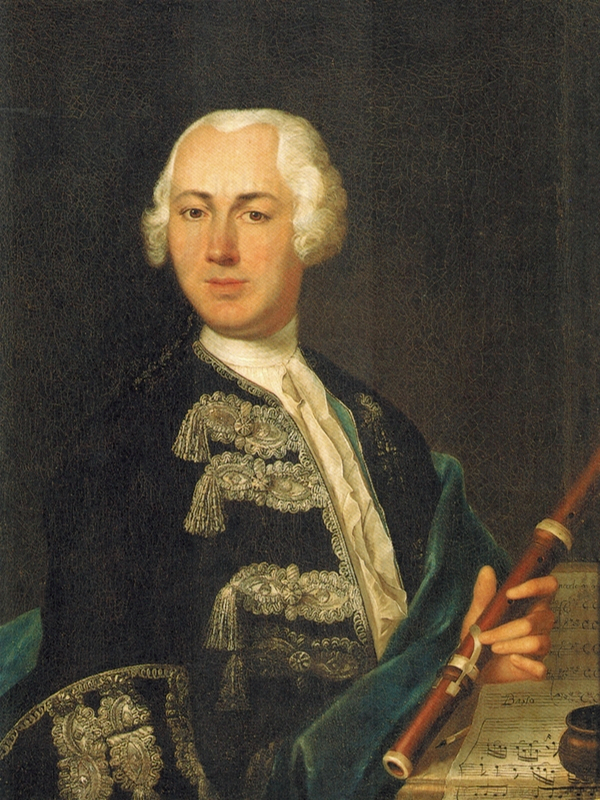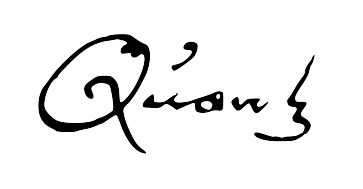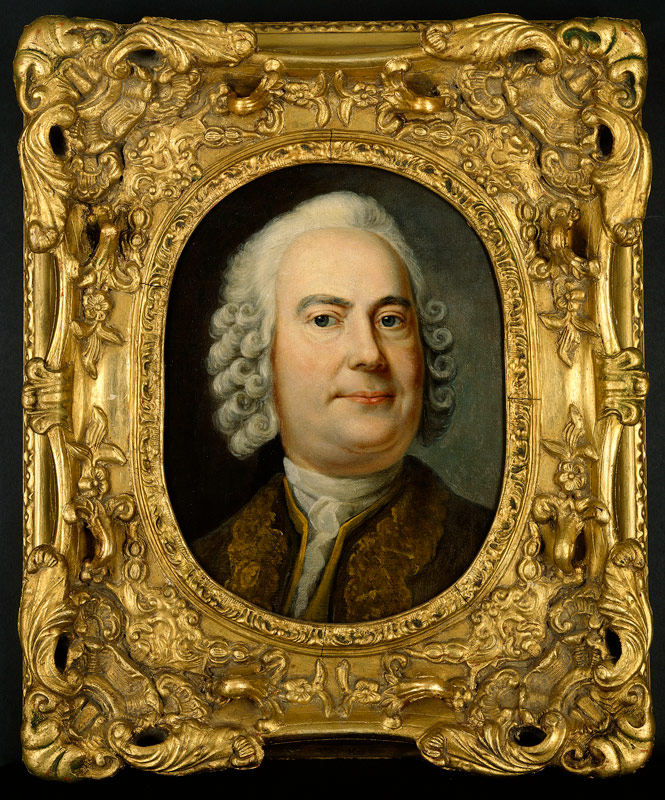 Karl Heinrich Graun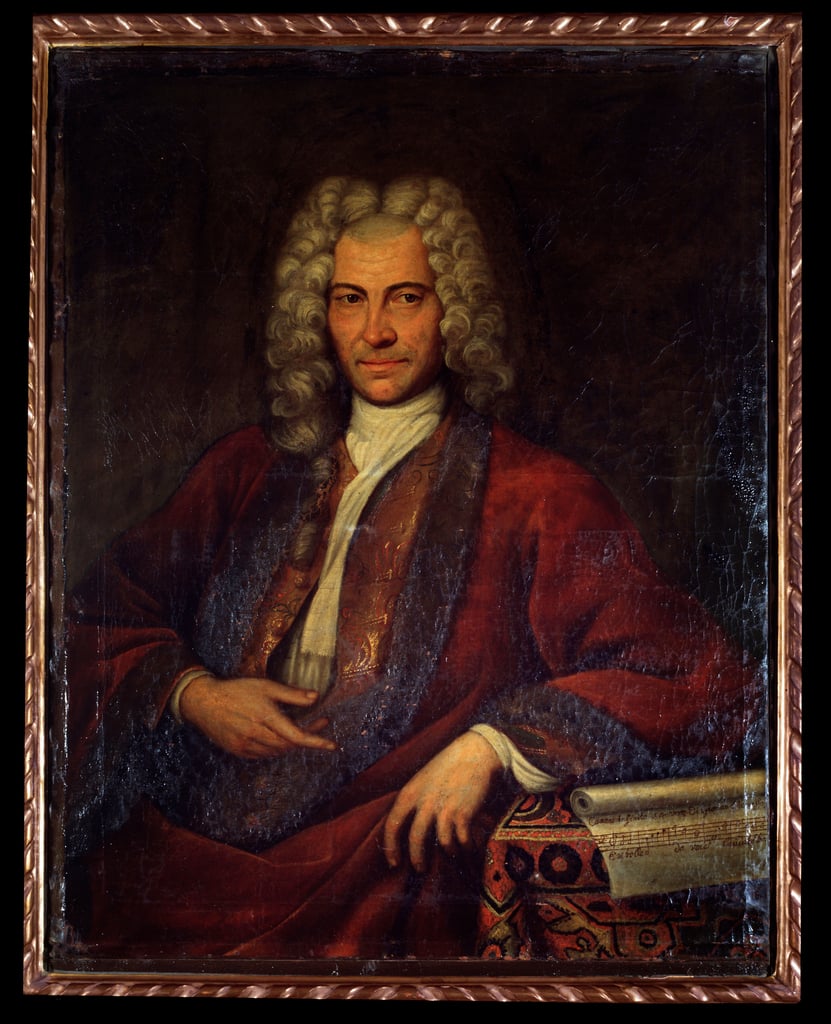 Johan Joseph Fux


In 1728 he was invited to the court at Berlin where he was much admired by the Princess Wilhelmine, later the wife of the Margrave of Bayreuth, herself a Lute-player. In 1736 Weiss retired in Dresden, where he died on the 5th October 1750 leaving a wife and seven children.


Silvius Leopold Weiss was, and still is, regarded as the greatest of all lutenists, and the instrument fell into decline within two decades of his death. An evaluation by the Markgrafin Wilhelmine de Bayreuth, sister of Frederick II of Prussia and herself a composer, would serve well as epitaph; "(Weiss) excels so much in playing the Lute that no one has ever matched him, and those who will come after him will only be left with the glory of imitating him.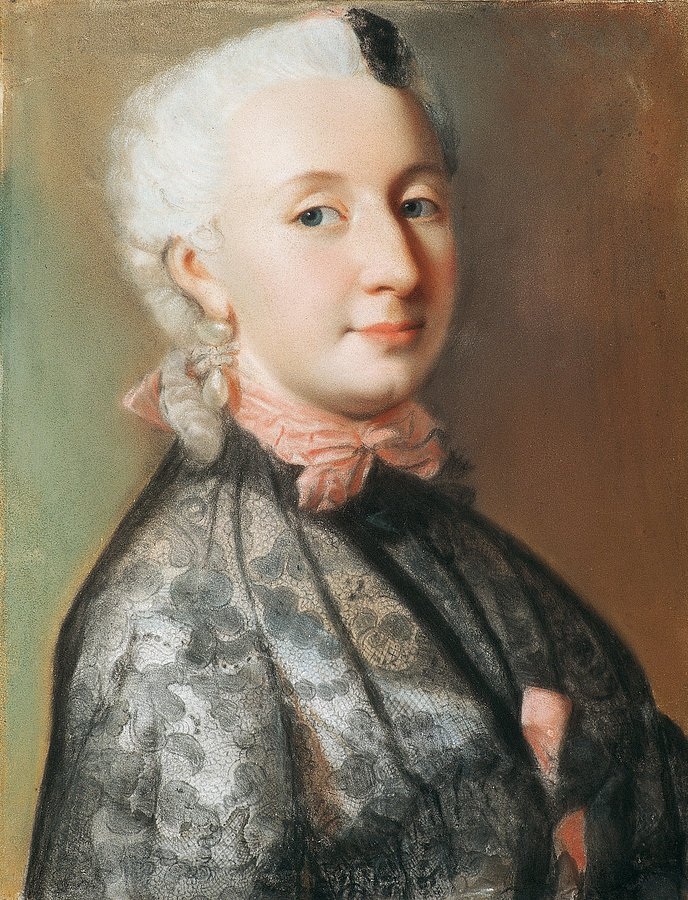 Markgrafin Wilhelmine de Bayreuth


"Sylvius Weiss' son Johann Adolph Faustinus Weiss succeeded him as a Saxon court lutenist.


The Margravine of Bayreuth.


The margravine's memoirs, Memoires de ma vie, written or revised in French between 1748 and her death, are preserved in the Royal Library of Berlin. They were first printed in two forms in 1810: a German translation down to the year 1733 from the firm of Cotta of Tübingen; and a version in French published by Vieweg of Brunswick, and coming down to 1742.
In addition to her other accomplishments, Wilhelmine was also a gifted composer and supporter of music. She was a lutenist, a student of Sylvius Leopold Weiss, and the employer of Bernhard Joachim Hagen.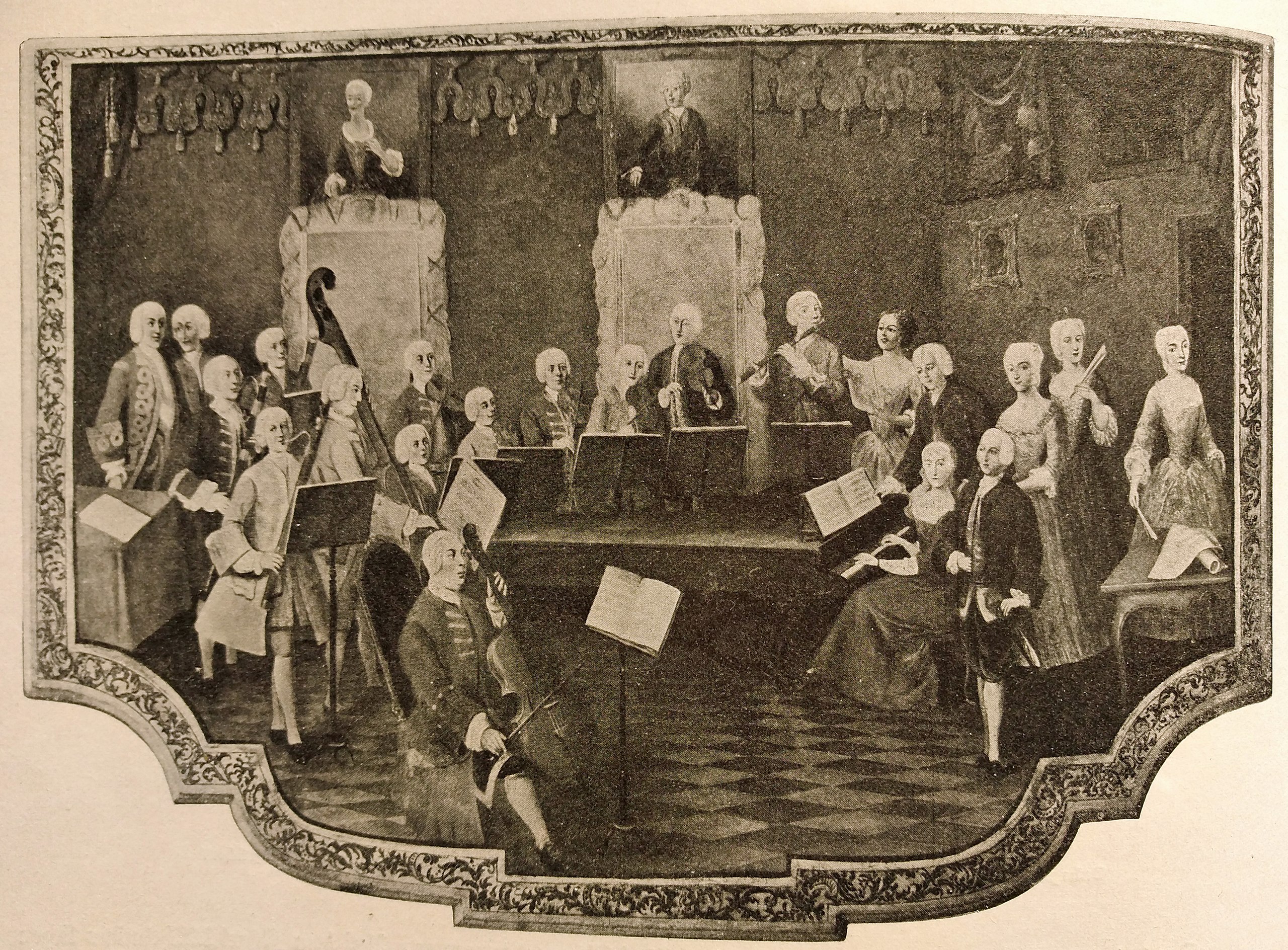 The Margravine of Bayreuth at the harpsichord.


Bernhard Joachim Hagen

Hagen was employed at the Bayreuth court as a violinist and as a lutenist, and his virtuoso lute performances and his compositions for lute were known and appreciated. He is one of the most important composers for lute in the era following Sylvius Leopold Weiss, and far more important than his teachers Falckenhagen and Durant. His style is shaped by the Empfindsamkeit and the beginning of the Sturm und Drang period. There is a clearly discernible influence of Carl Philipp Emmanuel Bach in Hagen's music.
Through margravine Wilhelmine's efforts, lute music flourished in the 18th century one last time before being rediscovered in the 20th century.



Count Hermann von Keyserlingk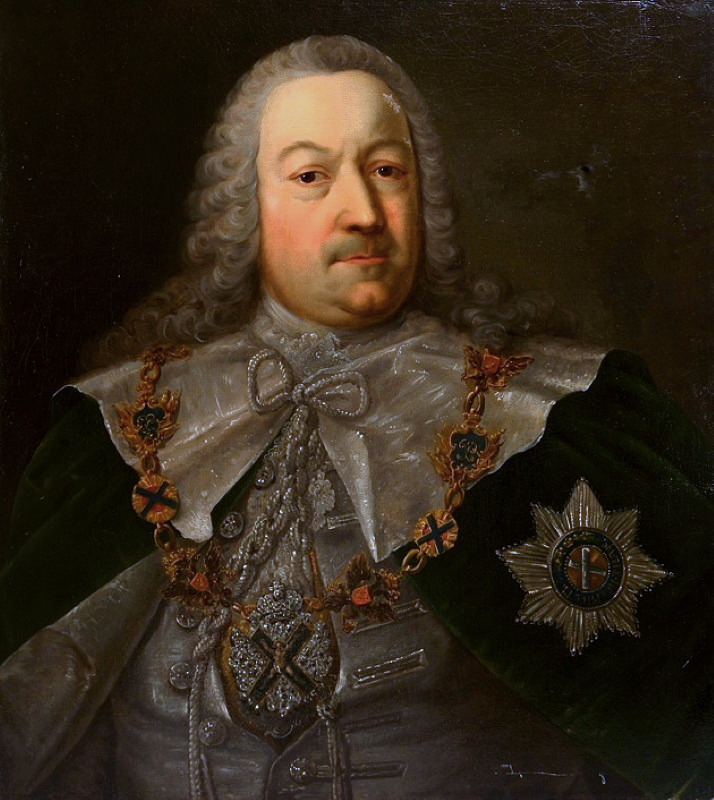 Count Hermann von Keyserlingk


Weiss can count among his protectors Imperial Count Hermann von Keyserlingk, known in the world of music to have ordered JS Bach to write the famous "Goldberg Variations". He had the reputation of a great amateur and connoisseur of music. He intervened in favor of Weiss when the latter was emprisoned in Dresden for an alleged crime (Weiss would have offended the Master of Revels of Breitenbach). Kayserling wrote the Minister of the State to praise the lute-player and to ask for his release.


Franz Benda

In 1738, in Dresden, Weiss met violin-player Franz Benda, from Berlin. Their took turns at playing, throughout a whole afternoon and until midnight, 24 violin solos and 8 or 10 suites for the lute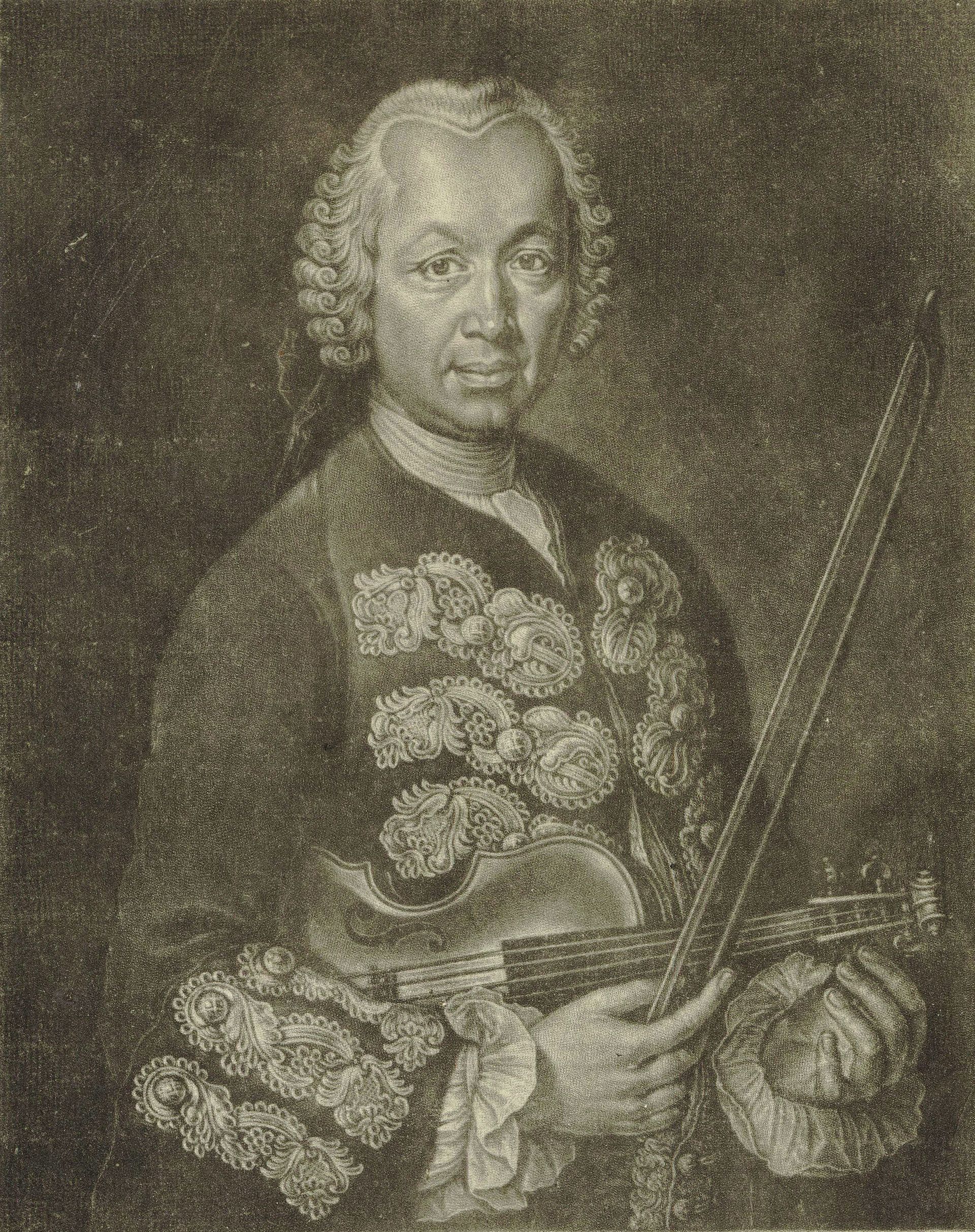 Franz Benda

DEMO BACHHAUS CONCERT 1739 project - S.L.Weiss & Anna Magdalena Bach

J.S. Bach Connection

Silvius Leopold Weiss' skill as a player and accompanist was legendary, as were his powers of improvisation. In this he was even compared with J.S. Bach, though it is doubtful whether they actually formally competed in improvisation, as the following account by Johann Friedrich Reichardt describes:
"Anyone who knows how difficult it is to play harmonic modulations and good counterpoint on the lute will be surprised and full of disbelief to hear from eyewitnesses that Weiss, the great lutenist, challenged J. S. Bach, the great harpsichordist and organist, at playing fantasies and fugues."

Weiss and J.S. Bach had been in all probability well known to one another even before they actually met. In later life, Weiss became a friend of Wilhelm Friedemann Bach. During 1739 Weiss stayed in Leipzig for four weeks, together with W.F. Bach and his own pupil Johann Kropfgans, and he visited the J.S. Bach house frequently; Johann Elias Bach, J.S. Bach's personal secretary, reports that the music he heard then was 'extra-special'. He wrote that that "we heard some very fine music when my cousin from Dresden [Wilhelm Friedemann Bach] came to stay for four weeks, together with the famous lute-player Mr. Weiss." J.S. Bach's Suite for violin and harpsichord in A major BWV 1025, recently identified as an arrangement of one of Weiss' lute sonatas, may owe its origin to one of these legendary meetings.

It is often suggested that J.S. Bach's, no slouch at the lute himself and an enthusiast of the hybrid lute-harpsichord, may have written his lute music (BWV 995-1000, 1006a) for Weiss, or even commissioned by him, but there is no concrete evidence for this, despite the musical and personal links between the two men. J.S. Bach was connected with a circle of professional and amateur lute players in Leipzig, and Weiss, as a fine composer, is unlikely to have felt the need to ask J.S. Bach to write for him. On the on the other hand, J.S. Bach would undoubtedly have known Weiss' music through playing it on his lute-harpsichord, probably in transcriptions like the one he made as the basis for the BWV 1025 arrangement. It is hard to believe that Weiss did not return the compliment in some way.