Pieter Codde project 2020/2021:
Pieter Codde (1599-1678) invented "
The Order to March
" formula in 1620s Amsterdam.
Rembrandt borrowed elements from Codde, particularly when he came to paint the Night Watch - a large and complicated martial scene, a genre strange to him- and actually a variation on "
The Order to March
" theme. Thus Pieter Codde's innovative development on the theme of the military genre painting had a profound influence on the most important of all Dutch paintings.

Codde produced several history works and a considerable number of portraits. In 1637, he finished the so-called Meagre Company, now in the Rijksmuseum, an Amsterdam militia piece begun by Frans Hals (1582/83-1666) in 1633. He was particularly prolific during the 1620s and the 1630s, rarely signed after 1645, but remained active as a painter in the 1650s.

Codde was active in both artistic and literary circles. In 1627, the poet and playwright Elias Herckmans (c. 1596-1644) dedicated his tragedy Tyrus to the artist, inspired by Codde's now lost painting of the subject. In 1633 Codde's own poem of pastoral love 'Waerom vlucht ghy Millibe' was published in the volume of poetry Hollands Nachtegaeltien.


VIDEO: Waerom vlucht ghy Millibe


Musick's Monument identifications on the Codde paintings

The Musick's Monument music project 2020/2021 in combination with the book "Johanna & Margaretha - Gravinnen van Vlaanderen en prinsessen van Constantinopel" by Thera Coppens


De inkomsten worden verkregen uit ANBI giften

De verkregen inkomsten worden gebruikt om de projecten te realiseren: onkosten projecten-reis en verblijfskosten projecten-betaling facturen.

De inkomsten staan op de ING rekening van Musick's Monument. Musick's Monument bezit géén spaarrekeningen-aandelen-deposito's etc.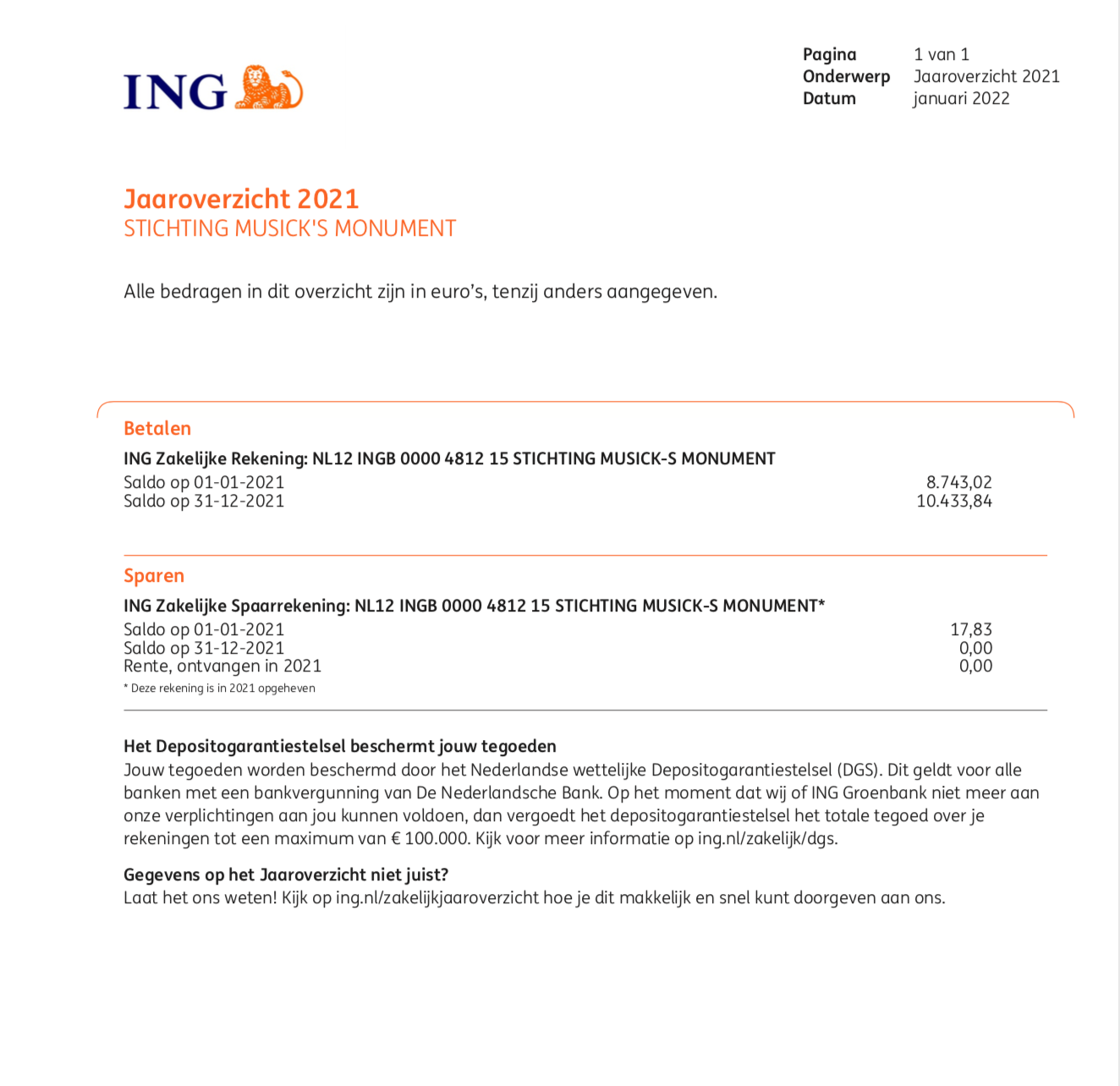 2021-kwartaal-1



MM=2020-I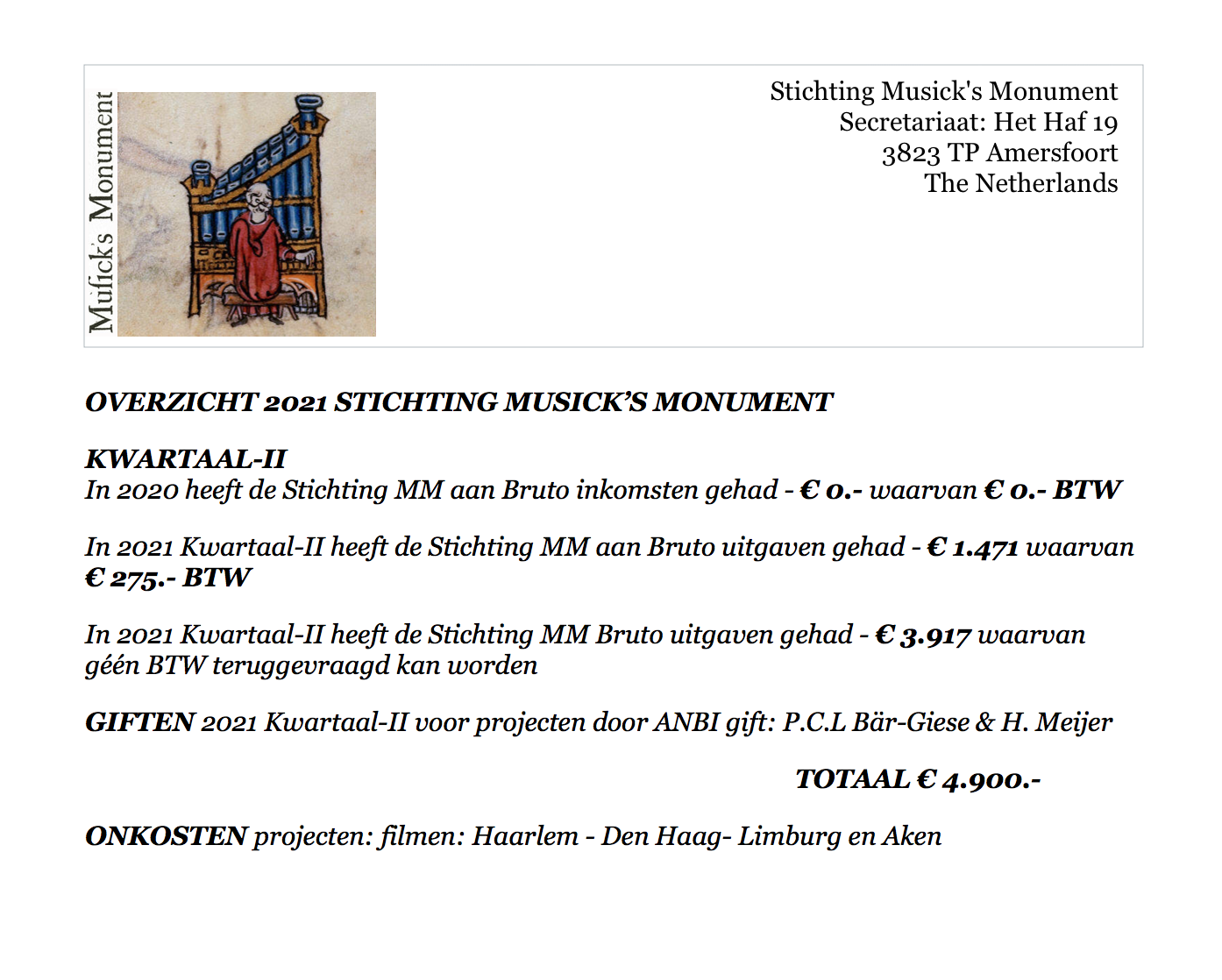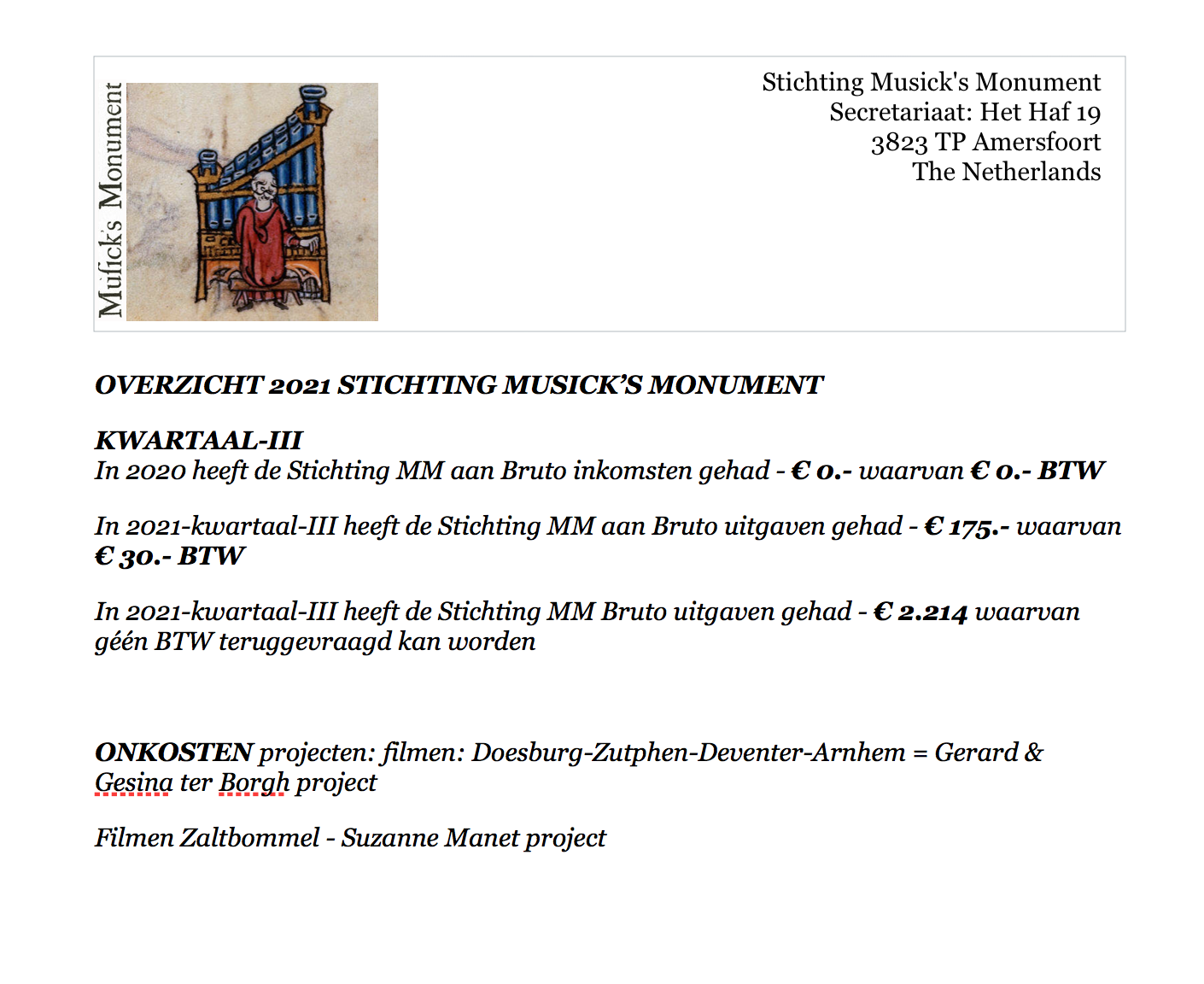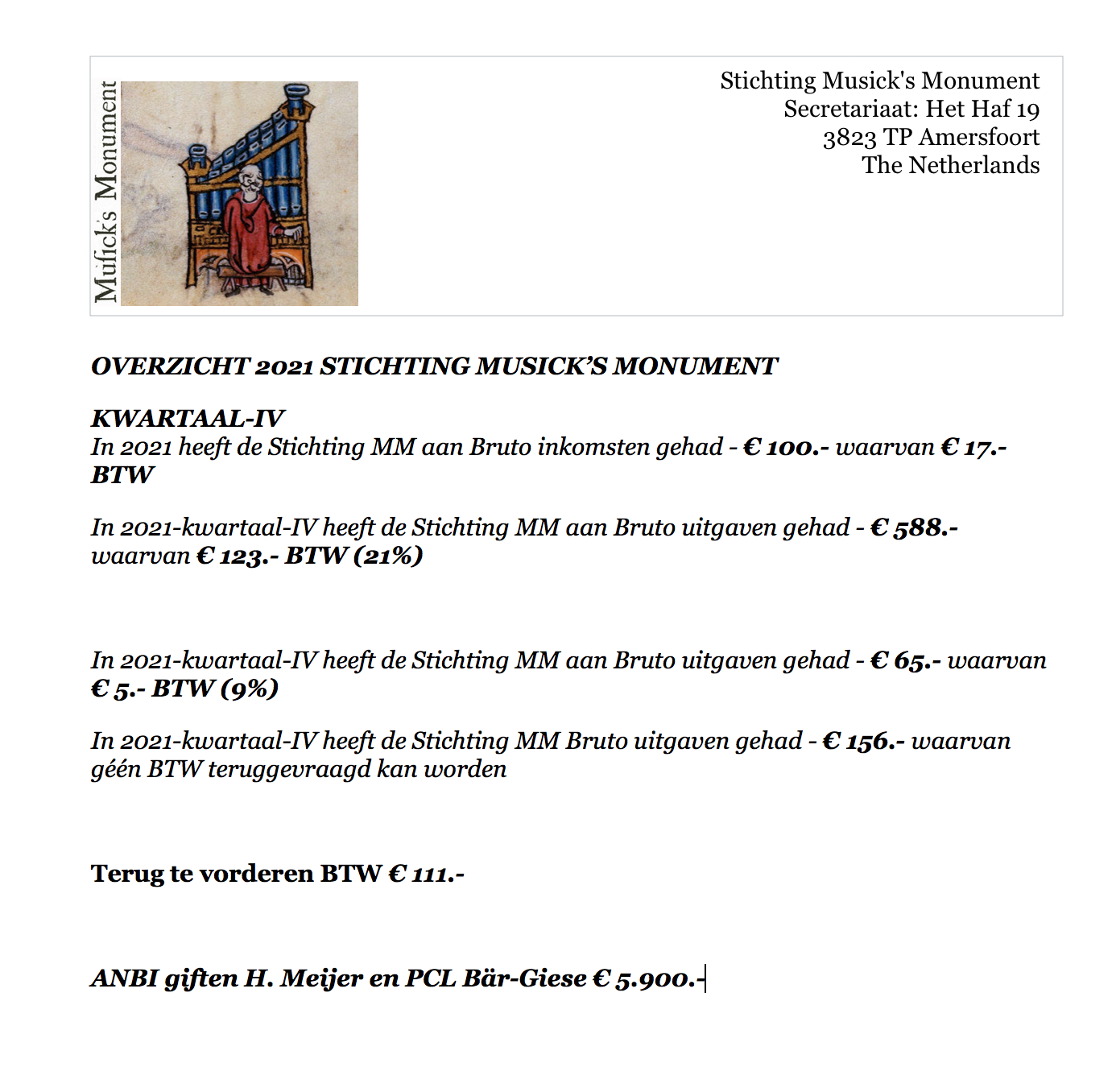 OVERZICHT 2020 STICHTING MUSICK'S MONUMENT In 2020 heeft de Stichting MM aan Bruto inkomsten gehad - € 350 waarvan € 48.- BTW
In 2020 heeft de Stichting MM aan Bruto uitgaven gehad - € 3.338 waarvan € 359.- BTW
In 2020 heeft de Stichting MM Bruto uitgaven gehad - € 1.012 waarvan géén BTW teruggevraagd kan worden
GIFTEN 2020 voor projecten door ANBI gift: P.C.L Bär-Giese & H. Meijer & A. Lock TOTAAL € 11.050.-
ONKOSTEN projecten:
Arcen en Zeeland filmen voor Codde en Valerius 400 project
Pieter Codde (1599-1678), painter, poet & lute player
https://youtu.be/aGik33hD-ow

ADRIAEN VALERIUS Veere 1625 & JOAN BLAEU 1649 - Toonneel der Steeden

https://youtu.be/nNJK8jOkJto

ONDERDEEL VAN HET 400 JAAR WILHELMUS PROJECT 1625-2025 & de Valerius Gedenck-Clanck

Muziekprogramma bij lezingen en presentaties van het boek van Thera Coppens: Johanna en Margaretha
HARBA LORI FA - HERTOG JAN I VAN BRABANT(1254-1294)/NEIDHART(1190-1237)
https://youtu.be/YZt90rlBP3w


Totale kosten € 3.338.-
Saldo op zakelijke rekening 01-01-2020 ……..€ 2.023,35
Saldo op zakelijke rekening 31-12-2020……. € 8.743,02
Saldo op zakelijke spaarrekening 01-01-2019 ……..€ 17,83
Saldo op zakelijke spaarrekening 31-12-2019 ……..€ 17,83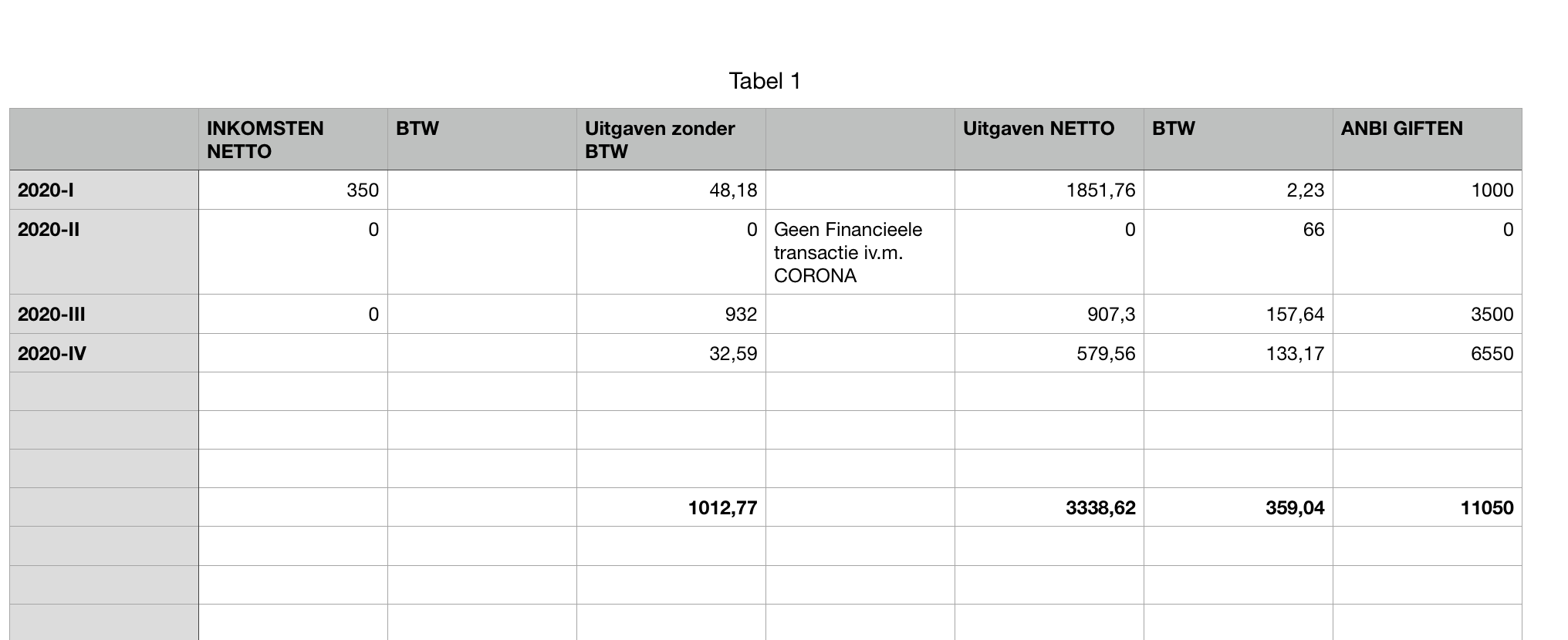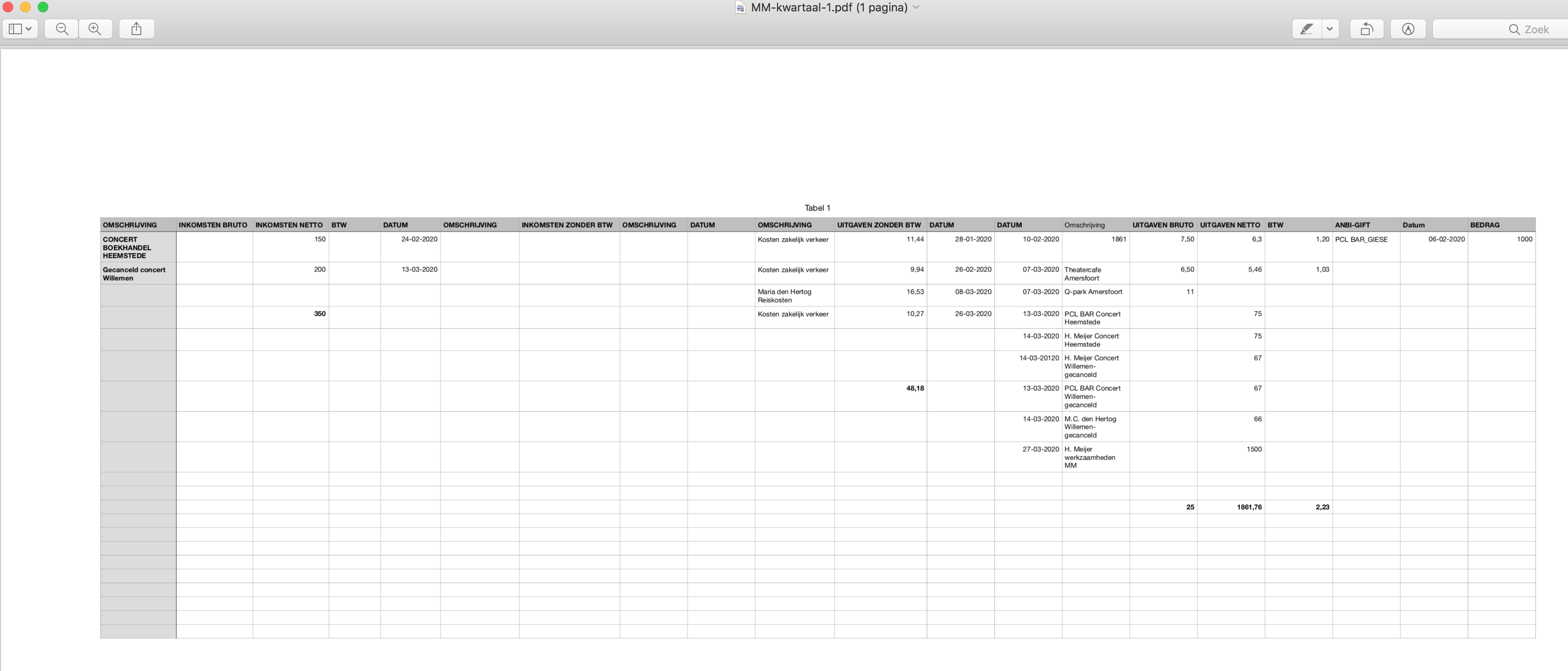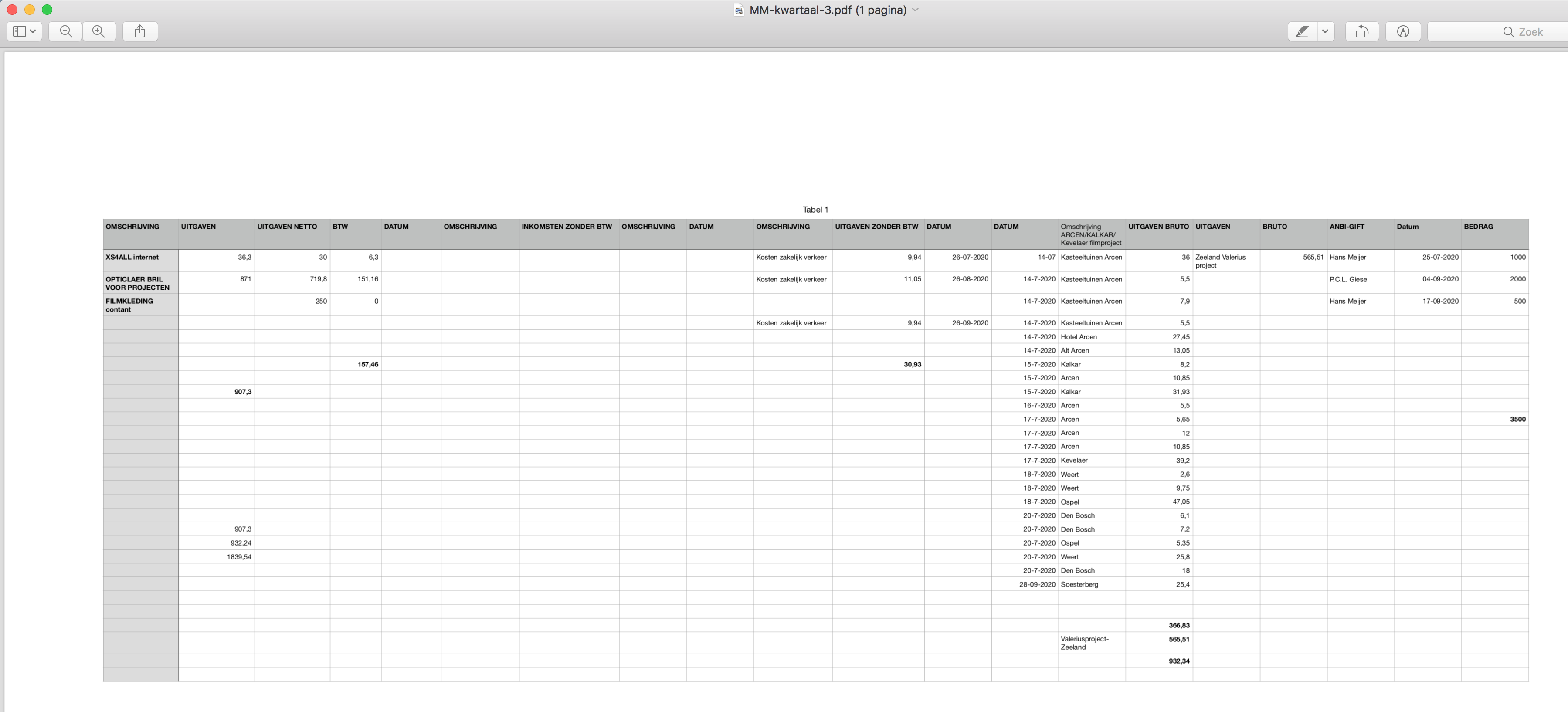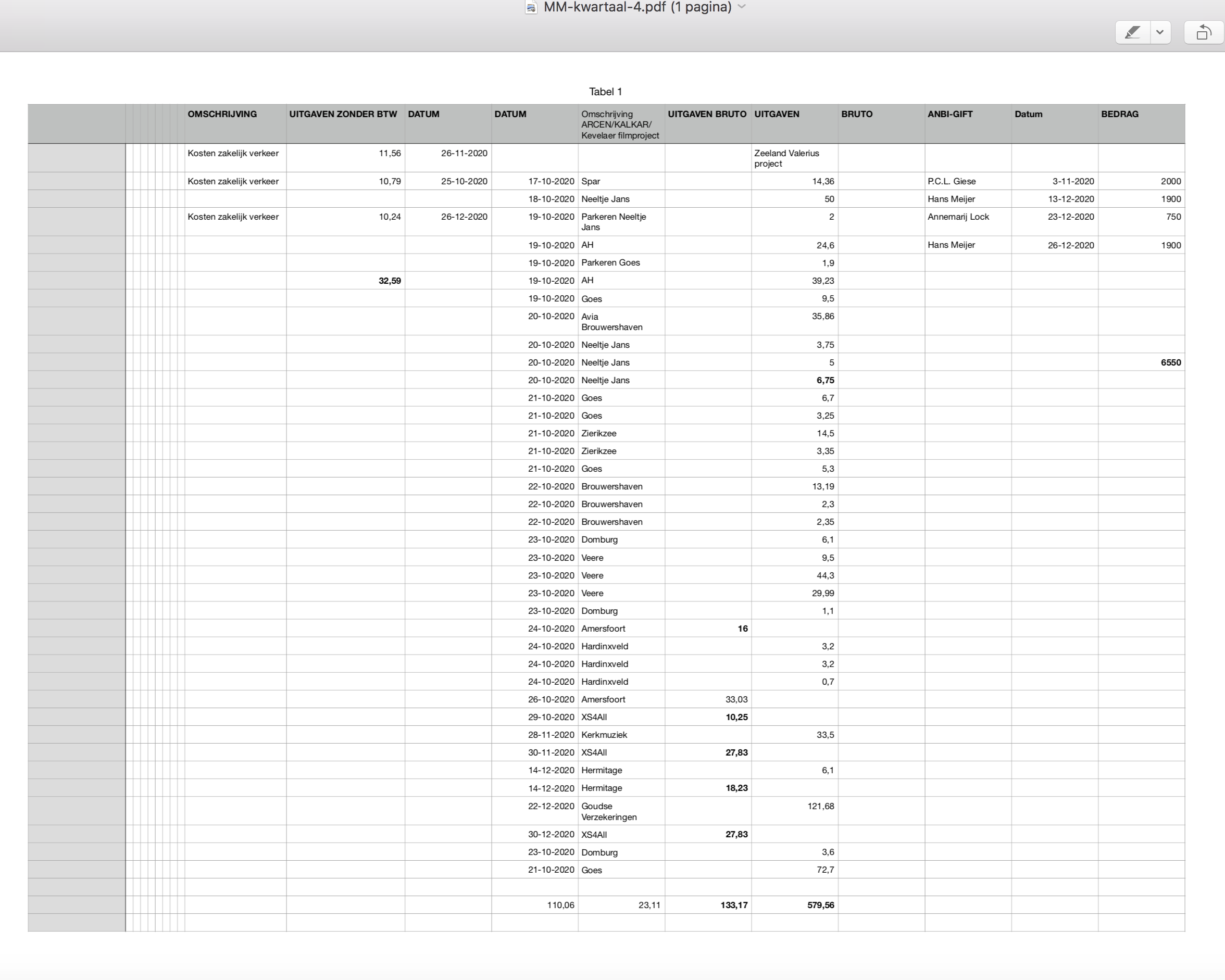 ANBI-2021
ANBI-2020
ANBI-2019
ANBI-2018
ANBI-2017
ANBI-2016
ANBI-2015

Paula Bär-Giese Hans Meijer