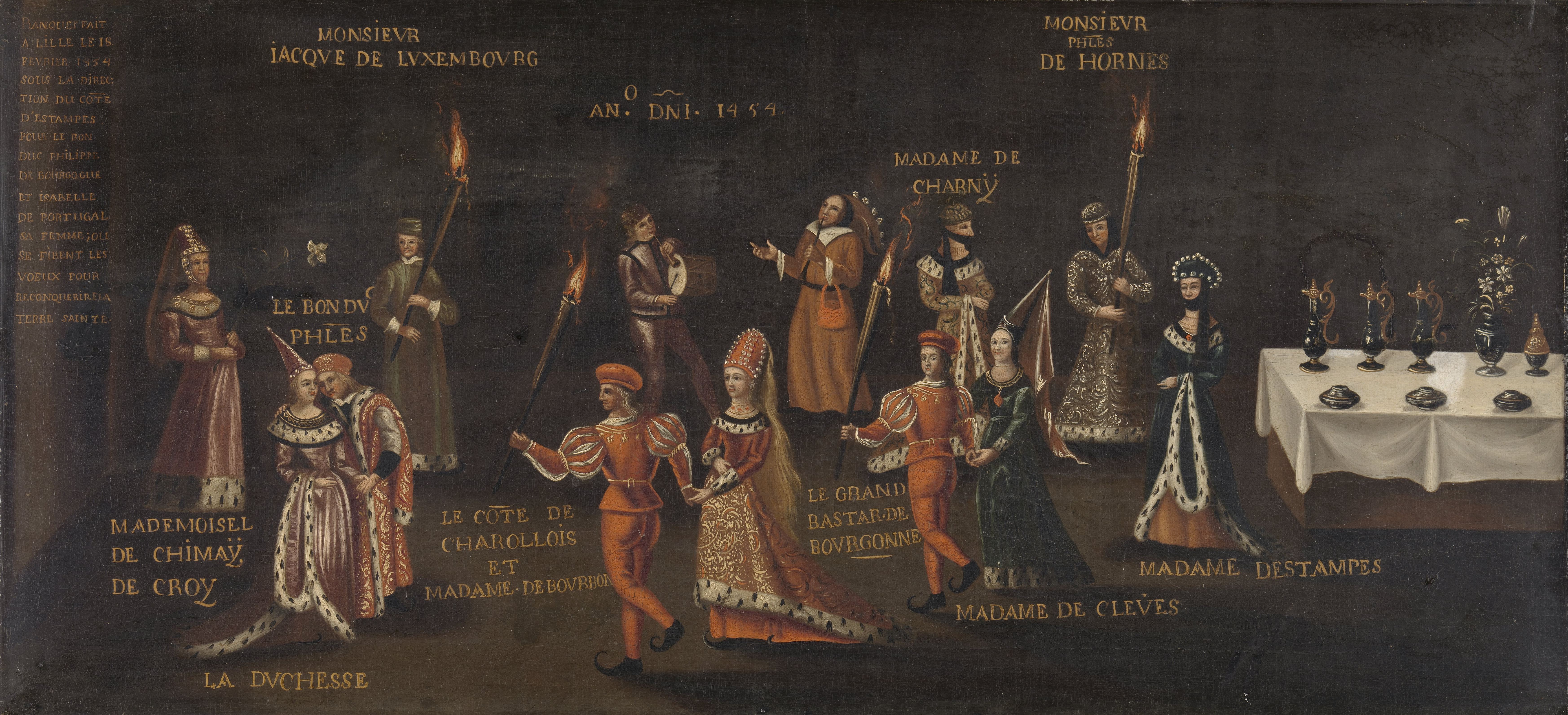 For the duke's thoughts were now turned from civic revolts to a great international movement which he hoped to see set in motion. Almost coincident with the capitulation of Ghent to Philip's will had been the capitulation of Constantinople to the Turks. The event long dreaded by pope and Christendom had happened at last (May 29, 1453). Again and again was the necessity for a united opposition to the inroads of the dangerous infidels urged by Rome. On the eve of St. Martin, 1453, a legate arrived in Lille bringing an official letter from the pope, setting forth the dire stress of the Christian Church, and imploring the mightiest duke of the Occident to be her saviour, and to assume the leadership of a crusade in her behalf against the encroaching Turk.
Philip was ready to give heed to the prayer. Whatever the exact sequence of his plans in relation to the court revels, the result was that his own banquet was utilised as a proper occasion for blazoning forth to the world with a flourish of trumpets his august intention of dislodging the invader from the ancient capital of the Eastern empire.
The superintendence of the arrangements for this all-eclipsing fête was entrusted, as La Marche relates,
"to Messire Jehan, Seigneur de Lannoy, Knight of the Golden Fleece, and a skilful ingenious gentleman, and to one Squire Jehan Boudault, a notable and discreet man. And the duke honoured me so far that he desired me to be consulted. Several councils were held for the matter to which the chancellor and the first chamberlain were invited. The latter had just returned from the war in Luxemburg already described.
"These council meetings were very important and very private, and after discussion it was decided what ceremonies and mysteries were to be presented. The duke desired that I should personate the character of Holy Church of which he wished to make use at this assembly."
As in many half amateur affairs the preparations took more time than was expected. At the first date set, all was not in readiness and the performance was postponed until February 17th. This entailed serious loss upon the provision merchants and they received compensation for the spoiled birds and other perishable edibles.4
The Royal Library at the Hague possesses a manuscript copied from an older one which contains the order of proceedings together with the text of all vows. There is a minute description in Mathieu d'Escouchy, who claims to have been present, and in a manuscript coming from Baluze, whose anonymous author might also have been an eye-witness. Of the various versions, that of La Marche seems to be the most original. One record shows that "a clerk living at Dijon, called Dion du Cret, received, in 1455, a sum of five francs and a half for having, at the order of the accountants, copied and written in parchment the history of the banquet of my said seigneur, held at Lille, February 17, 1453, containing fifty-six leaves of parchment" (La Marche, ii., 340 note). It is possible that all the authors refreshed their memory with this account, which seems to have been merely a copy.]
The gala-day opened with a tournament at which Adolph of Cleves again sported as Knight of the Swan to the applause of the onlookers. After the jousting, the guests adjourned to the banqueting hall, where fancy had indeed, run riot, to make ready for their admiring eyes and their sagacious palates. Entremets is the term applied to the elaborate set pieces and side-shows provided to entertain the feasters between courses, and these were on an unprecedented scale.
Three tables stood prepared respectively for the duke and his suite, for the Count of Charolais, his cousins, and their comrades, and for the knights and ladies. The first table was decorated with marvellous constructions, among which was a cruciform church whose mimic clock tower was capacious enough to hold a whole chorus of singers. The enormous pie in which twenty-eight musicians were discovered when the crust was cut may have been the original of that pasty whose opening revealed four-and-twenty blackbirds in a similar plight. Wild animals wandered gravely at a machinist's will through deep forests, but in the midst of the counterfeit brutes there was at least one live lion, for Gilles le Cat received twenty shillings from the duke for the chain and locks he made to hold the savage beast fast "on the day of the said banquet."
Again there was an anchored ship, manned with a full crew and rigged completely. "I hardly think," observes La Marche, "that the greatest ship in the world has a greater number of ropes and sails."
Before the guests seated themselves they wandered around the hall and inspected the decorations one by one. Nor was their admiration exhausted when they turned to the discussion of the toothsome dainties provided for their delectation.
During the progress of the banquet, the story of Jason was enacted. Time there certainly was for the play. La Marche estimated forty-eight dishes to every course, though he qualifies his statement by the admission that his memory might be inexact. These dishes were wheeled over the tables in little chariots before each person in turn.
"Such were the mundane marvels that graced the fête," is the conclusion of La Marche's exhaustive enumeration of the masterpieces from artists' workshops and ducal kitchen
"I will leave them now to record a pity moving entremets which seemed to be more special than the others. Through the portal whence the previous actors had made their entrance, came a giant larger without artifice than any I had ever seen, clad in a long green silk robe, a turban on his head like a Saracen in Granada. His left hand held a great, old-fashioned two-bladed axe, his right hand led an elephant covered with silk. On its back was a castle wherein sat a lady looking like a nun, wearing a mantle of black cloth and a white head-dress like a recluse.
"Once within the hall and in sight of the noble company, like one who had work before her, she said to the giant, her conductor:
"'Giant, prithee let me stay
For I spy a noble throng
To whom I wish to speak.'

"At these words her guide conducted his charge before the ducal table and there she made a piteous
appeal to all assembled to come to rescue her, Holy Church, fallen into the hands of unbelieving miscreants. As soon as she ceased speaking a body of officers entered the hall, Toison d'Or, king-at-arms, bringing up the rear. This last carried a live pheasant ornamented with a rich collar of gold studded with jewels. Toison d'Or was followed by two maidens, Mademoiselle Yolande, bastard daughter of the duke, and Isabelle of Neufchâtel, escorted by two gentlemen of the Order. They all proceeded to the host. After greetings, Toison d'Or then said:
"'High and puissant prince and my redoubtable lord, here are ladies who recommend themselves very humbly to you because it is, and has been, the custom at great feasts and noble assemblies to present to the lords and nobles a peacock or some other noble bird whereon useful and valid vows may be made. I am sent hither with these two demoiselles to present to you this noble pheasant, praying you to remember them.'
"When these words were said, Monseigneur the duke, who knew for what purpose he had given the banquet, looked at the personified Church, and then, as though in pity for her stress, drew from his bosom a document containing his vow to succour Christianity, as will appear later. The Church manifested her joy, and seeing that my said seigneur had given his vow to Toison d'Or, she again burst forth forth into rhyme:
"'God be praised and highly served
By thee, my son, the foremost peer in France.
Thy sumptuous bearing have I close observed
Until it seemed thou wert reserved

To bring me my deliverance.
Near and far I seek alliance
And pray to God to grant thee grace
To work His pleasure in thy place.

"'0 every prince and noble, man and knight,
Ye see your master pledged to worthy deed.
Abandon ease, abjure delight,
Lift up your hand, each in his right,
Offer God the savings from thy greed.
I take my leave, imploring each, indeed,
To risk his life for Christian gain,
To serve his God and 'suage my pain.'

"At this the giant led off the elephant and departed by the same way in which he had entered.
"When I had seen this entremets, that is, the Church and a castle on the back of such a strange beast, I pondered as to whether I could understand what it meant and could not make it out otherwise except that she had brought this beast, rare among us, in sign that she toiled and laboured in great adversity in the region of Constantinople, whose trials we know, and the castle in which she was signified Faith. Moreover, because this lady was conducted by this mighty giant, armed, I inferred that she wished to denote her dread of the Turkish arms which had chased her away and sought her destruction.
"As soon as this play was played out, the noble gentlemen, moved by pity and compassion, hastened to make vows, each in his own fashion."
The vow of the Count of Charolais was as follows:
"I swear to God my creator, and to His glorious mother, to the ladies and to the pheasant, that, if my very redoubtable lord and father embark on this holy journey, and if it be his pleasure that I accompany him, I will go and will serve him as well as I can and know how to do."
Other vows were less simple: all kinds of fantastic conditions being appended according to individual fancy. One gentleman decided never to go to bed on a Saturday until his pledge were accomplished. Another that he would eat nothing on Fridays that had ever lived until he had had an opportunity of meeting the enemy hand to hand, and of attacking, at peril of his life, the banner of the Grand Turk.
Philip Pot vowed never to sit at table on a Tuesday and to wear no protection on his right arm. This last the duke refused to permit. Hugues de Longueval vowed that when he had once turned his face to the East he would abstain from wine until he had plunged his sword in an infidel's blood, and that he would devote two years to the crusade even if he had to remain all alone, provided Constantinople were not recovered. Louis de Chevelast swore that no covering should protect his head until he had come to within four leagues of the infidels, and that he would fight a Turk on foot with nothing on his arm but a glove. There was the same emulation in the vows as in the banquets and many of the self-imposed penalties were as bizarre as the side-shows.
There were so many chevaliers eager to bind themselves to the enterprise that the prolonged ceremony threatened to become tedious. The duke, therefore, declared that the morrow would be equally valid as the day.
"To abridge my tale [continues La Marche], the banquet was finished and the cloth removed and every one began to walk around the room. To me it seemed like a dream, for, of all the decorations, soon nothing remained but the crystal fountain. When there was no further spectacle to distract me, then my understanding began to work and various considerations touching this business came into my mind. First, I pondered upon the outrageous excess and great expense incurred in a brief space by these banquets, for this fashion of progressive entertainments, with the hosts designated by chaplets, had lasted a long time. All had tried to outshine their predecessors, and all, especially my said lord, had spent so much that I considered the whole thing outrageous and without any justification for the expense, except as regarded the entremets of the Church and the vows. Even that seemed to me too lightly treated for an important enterprise.
"Meditating thus I found myself by chance near a gentleman, councillor and chamberlain, who was in my lord's confidence and with whom I had some acquaintance. To him I imparted my thoughts in the course of a friendly chat and his comment was as follows:
"'My friend, I know positively that these chaplet entertainments would never have occurred except by the secret desire of the duke to lead up to this very banquet where he hoped to achieve a holy purpose and to resist the enemies of our faith. It is three years now since the distress of our Church was presented to the Knights of the Golden Fleece at Mons. My lord there dedicated his person and his wealth to her service. Since then occurred the rebellion of Ghent, which entailed upon him a loss of time and money. Thanks be to God, he has attained there a good and honourable peace, as every one knows. Now it has chanced that, during this very period, the Turks have encroached on Christianity still further in their capture of Constantinople. The need of succour is very pressing and all that you have witnessed to-day is proof that the good duke is intent on the weal of Christendom.'"
During the progress of this conversation, a new company was ushered into the hall, preceded by musicians. Here came Grâce Dieu, clad as a nun followed by twelve knights dressed in grey and black velvet ornamented with jewels. Not alone did they come. Each gentleman escorted a dame wearing a coat of satin cramoisy over a fur-edged round skirt à la Portuguaise. Grâce Dieu declared in rhyme that God had heard the pious resolution of Duke Philip of Burgundy. He had forthwith sent her with her twelve attendants to promise him a happy termination to his enterprise. Her ladies, Faith, Charity, Justice, Reason, Prudence, and their sisters, were then presented to him. Grâce Dieu departs alone and no sooner has she disappeared than Philip's new attributes begin to dance to add to the good cheer. Among the knights was Charles and one of his half-brothers; among the ladies was Margaret, Bastard of Burgundy, and the others were all of high birth. Not until two o'clock did the revels finally cease.
It must be noted that La Marche's reflections upon the extravagance of the entertainment occur also in Escouchy's memoirs. Probably both drew their moralising from another author. It is stated by several reputable chroniclers that Olivier de la Marche himself represented the Church. That he merely wrote her lines is far more probable. Female performers certainly appeared freely in these as in other masques, and there was no reason for putting a handsome youth in this rôle of the captive Church. In mentioning the plans that La Marche claims to have heard discussed in the council meeting, he says plainly that he was to play the rôle of Holy Church, but as he makes no further allusion to the fact, it may be dismissed as one of his careless statements.
This pompous announcement of big plans was the prelude to nothing! Yet it was by no means a farce when enacted. Philip fully intended to make this crusade the crowning event of his life, and his proceedings immediately after the great fête were all to further that end. To obtain allies abroad, to raise money at home, and to ensure a peaceful succession for his son in case of his own death in the East—such were the cares demanding the duke's attention.
The twenty-year-old Count of Charolais was entrusted with the regency for the term of his father's sojourn abroad in quest of allies, and he hastened to Holland to assume the reins of government, but he was speedily recalled to Lille to submit once more to paternal authority before being left to his own devices and to maternal bias.
For the ducal pair disagreed seriously on the subject of their son's second marriage. Isabella wished that a bride should be sought in England, and this wish was apparently echoed by Charles himself. The important topic was discussed with more or less freedom among the young courtiers, until the drift of the conversations, whose burden was wholly adverse to his own fixed purpose, came to Philip's ears, together with the information that one of his own children was among those who incited the count to independent desires about his future wife. Very stern was the duke in his reprimand to the two young men. He acknowledged that force of circumstances had once led him into friendly bonds with the foes of his own France, but never had he been "English at heart." Charles must accept his father's decision on pain of disinheritance. "As for this bastard," Philip added, turning to the other son, destitute of status in the eyes of the law, "if I find that he counsels you to oppose my will, I will have him tied up in a sack and thrown into the sea."
The bride selected for the heir was Isabella of Bourbon, daughter of the duke's sister, and the betrothal was hastily made. Even the approval of the bride's parents was dispensed with. This passed the more easily as the young lady herself was conveniently present in the Burgundian court under the guardianship of her aunt, the duchess, who had superintended her education. A papal dispensation was more necessary than paternal consent, but that, too, was waived as far as the betrothal was concerned. To that extent was Philip obeyed. Then Charles returned to Holland and his father proceeded to Germany to obtain imperial co-operation in his Eastern enterprise.
The duke's departure from Lille was made very privately at five o'clock in the morning. He was off before his courtiers were aware of his last preparations. That was a surprise, but not the only one in store for those left behind. In order to save every penny for his journey, Philip ordered radical retrenchment in his household expenses. The luxurious repasts served to his retainers were abolished and all alike found themselves forced to restrict their appetites to the dainties they could purchase with the table allowance accorded them. "The court's leg is broken," said Michel, the rhetorician.
In his own outlay there was no stinting; the duke's progress was pompous and stately as was his wont. As he traversed Switzerland, Berne, Zurich, and Constance asked and obtained permission to show their friendship with ceremonious receptions. Loud were the cries of "Vive Bourgogne." Equally hospitable were the German cities. Game, wine, fodder, were offered for the traveller's use at every stage, as he and his suite rode to the imperial diet.
At Ratisbon, disappointment greeted him. The emperor whom he had come so far to see in person failed to appear. Unwilling to accede to the plan of co-operation, afraid to give an open refusal, Frederic simply avoided hearing the request. Essentially lazy, he shrank from committing himself to a difficult enterprise, nor was his ambition tempted by possible glory. It had cost no pang to refuse the crown of Bohemia and Hungary. But even had he been personally ambitious he might still have been slow to lend his adherence to the duke's project, in the not unnatural dread lest the flashing renown of the greatest duke of the Occident might throw a poor emperor as ally into the shade. The very warmth of Philip's reception in Germany had chilled Frederic. From a retreat in Austria, he sent his secretary, Æneas Sylvius, to represent him at Ratisbon, a substitution far from pleasing to the visitor.
There were other defections, too, from the diet. None of those present was in a position to aid Philip in furthering his schemes. The matter was brought forward and laid on the table to be discussed at the next diet, appointed to meet in November at Frankfort. But Philip would not wait for that. Germany did not agree with him. He was not well. Rumours there were of various kinds about his reasons for returning home. They do not seem to require much explanation, however. He had not been met half way in Germany and was highly displeased at the failure. Declining all further entertainment proffered by the cities, he travelled back to Besançon by way of Stuttgart and Basel. In the early autumn he was at Dijon.
During this summer, negotiations about Charles's marriage had continued. The Duke of Bourbon was inclined to chaffer about the dowry demanded by Philip. One of the estates asked for was Chinon, and it was urged that it, a male fief, was not capable of alienation. Philip was not inclined to accept this reason as final and the negotiations hung fire, much to the distress of the Duchess of Bourbon, who feared a breach between her husband and brother. Naïve are the phrases in one of her letters as quoted by Chastellain:
"MY VERY DEAR SEIGNEUR AND BROTHER,
"I have heard all Boudault's message from you ... To be brief, Monseigneur is content and ready to accede the points that you demand. It seems to me that you ought to give him easy terms and that you ought to put aside any grudge you may cherish against him. Monseigneur, since I consider the thing as done, I beg you to celebrate the nuptials as soon as possible although not without me as you have promised me."
The king, too, was interested in the matter, and wrote as follows to Duke Philip:
"DEAR AND MUCH LOVED BROTHER:
"Some time ago my cousin of Bourbon informed me of the negotiations for the marriage of my cousin of Charolais, your son, to my cousin Isabella of Bourbon, his daughter, which marriage has been deferred, as he writes me, because he does not wish to alienate to his daughter the seignory of Château-Chinon. It is not possible for him to do this on account of the marriage agreement of our daughter Jeanne and my cousin of Clermont, his son, wherein it was stipulated that Château-Chinon should go to them and their heirs. Moreover, it cannot descend in the female line, and in default of heirs male it must return to the crown as a true appanage of France.
"Lest, peradventure, you may doubt the truth of this, and imagine that the point is urged by our cousin of Bourbon simply as an excuse for not ceding the estate, we assure you that it is true, and was considered in arranging the alliance of our daughter so that it is beyond the power of our cousin of Bourbon to make any alienation or transfer of the territory at the marriage of his daughter. We never would have permitted the marriage of our daughter without this express settlement. With this consideration it seems to me that you ought not to block the marriage in question, especially as my cousin says he is offering you an equivalent. He cannot do more as we have charged our councillor, the bailiff of Berry, to explain to you in full. So pray do not postpone the marriage for the above cause or for any cause, if by the permission of the Church and of our Holy Father it can be lawfully completed.
"Given at Romorantin, Oct. 17.

"CHARLES.
CHALIGAUT."
As the marriage was an event of importance, and the circumstances are simple historic facts, it is strange that there should be any uncertainty regarding the details of its solemnisation. But there is a certain vagueness about the narratives. One version is so amusing that it deserves a slight consideration.14 The chronicler relates how Charles VII. felt some uneasiness at the delay in the negotiations. Conscious of the sentiments of the Duchess of Burgundy, he feared lest her well-known sympathies for England might prevail in the final decision.
When Philip had returned to Dijon, the bailiff of Berry came as the king's special envoy to discuss some aspects of the subject with him. The mission was gladly undertaken as the messenger had never seen Philip nor his court and he was pleased at the chance of meeting a personage whose fame rang through Europe. Very graciously was he received by the duke, who read the king's letters attentively and replied to the envoy's messages in general terms of courteous recognition, without making his own intention manifest. The bailiff waited for an answer, finding, in the meanwhile, that his days passed very agreeably.
As a matter of fact, before his arrival at Dijon Philip Pot had set out for the Netherlands, bearing the duke's orders to his son to celebrate his nuptials without further delay. The duke did not intend to be influenced by any one. It was his will that his son should accept the bride selected and that was all sufficient. The reason why the duke detained the king's messenger was that he "awaited news from Messire Philip de Pot, whom he had sent in all speed to his son to hasten the wedding."15 The said gentleman found the count at Lille with the duchess, his mother, and he was so diligent in the discharge of his mission that he made all the arrangements himself and saw the wedding rites solemnised immediately. The bridegroom did not even know of the plan until the night preceding the important day. Then Philip Pot rode back to Dijon.
When the duke was assured that the alliance was irrevocably sealed he was quite ready to answer the king's messenger, whom he at once invited to an audience. In a casual fashion Philip remarked:
"Now bailiff, the king sent you hither about a matter which I am humbly grateful for his interest in. You know my opinion. I had no desire to dissemble. Here is a gentleman fresh from Flanders; ask him his news and note his reply."
"What tidings, Monsieur, do you bring us?
Prithee impart it" said the bailiff to the chevalier.
And the gentleman, laughing, replied: "By my faith, Monsieur bailiff, the greatest news that I know is that Monseigneur de Charolais is married!"
"Married! to whom?"
"To whom?" responded the chevalier, "why, to his first cousin, Monseigneur's niece."
Merry was the duke over the Frenchman's blank amazement. Again the latter had to be reassured of the truth of the statement. Philip Pot told him that it was so true that the wedded pair had spent the night together according to their lawful right.
The bailiff did not know which way to turn. "So he acted out his two rôles. Returning thanks to the duke in the king's name with all formality, he then joined in the general laugh over the unsuspected trick. He was a man of the world and knew how to take advantage of sense and of folly."
It was on the morrow of this hasty tying of the wedding knot that the Countess of Charolais sent a messenger to announce the fact to her parents. They seem to have been perfectly satisfied, made no further objection to any point, and the mooted territory of Chinon made part of the dower in spite of the reasons urged against it.
As to the bailiff, when he made his adieux at Dijon, Philip presented him with a round dozen stirrup cups, each worth three silver marks, and he went home a surprised and delighted man.
"About this time [says Alienor de Poictiers] Monsieur de Charolais married Mademoiselle de Bourbon and he married her on the eve of All Saints at Lille, and there was no festival because Duke Philip was then in Germany. Eight days after the nuptials the duchess gave a splendid banquet where were all the ladies of Lille, but they were seated all together, as is usually done at an ordinary banquet, without mesdames holding state as would have been proper for such an occasion."
It is evident from all the stories that Charles protested against his father's orders as much as he dared and then obeyed simply because he could not help himself.
Yet, strange to say, the unwilling bridegroom proved a faithful husband in a court where marital fidelity was a rare trait.
Philip's plans for the international union against the Turk were less easily completed than those for the union of his son and his niece. In November, the diet met at Frankfort; the expedition was discussed and some resolutions were passed, but nothing further was achieved.
Charles VII. would not even promise co-operation on paper. He had gradually extended his own domain in French-speaking territory and had dislodged the English from every stronghold except Guisnes and Calais. Under him France was regaining her prestige. Charles had much to lose, therefore, in joining the undertaking urged by Philip and he was wholly unwilling to risk it. From him Philip obtained only expressions of general interest in the repulse of the Turks, and more definite suggestions of the dangers that would menace Western Europe if all her natural defenders carried their arms and their fortunes to the East.
When the anniversary of the great fête came round not a vow was yet fulfilled!


https://www.gutenberg.org/files/14496/14496-h/14496-h.htm